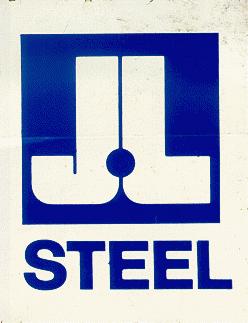 BEAVER COUNTY INDUSTRIAL MUSEUM
J&L COLLECTION

Since all industry is dependent on transportation, the Ohio and Beaver rivers played a large part in the industrialization of Beaver County. Steel also needed a large supply of water. The industrialists that came to Beaver County because of its water supply erected factories, developed towns, and in the process made Beaver County one of the leading industrial counties in the state.
During the 1800s many small factories were producing horse nails, bricks, pottery, glass, chemicals, some iron, and wire products in Beaver County but never was there a need for a large work force until the steel industry started to move into the county in the early 1900s. They brought their large mills and built their planned towns, such as Midland by Crucible Steel, Aliquippa by Jones & Laughlin, Ambridge by American Bridge Co., bringing in workers from all over the country and in fact from all over the world.
The steel companies had a tendency to dominate the towns, and in Aliquippa this was probably the most heavy handed. There Jones & Laughlin held ownership of all key community services in what one-time J&L general superintendent Tom Girdler called a "benevolent dictatorship".
The steel companies in Beaver County had a strong anti-union policy right from the start, and this continued until the Supreme Court case of NLRB Vs Jones & Laughlin. This case was filed by Beaver Valley Lodge 200 Amalgamated Association of Iron, Steel And Tin Workers, with the assistance from the Aliquippa Democratic Social Club. Although many steelworkers had been harassed and fired, ten men comprising a mixture of union officials, workers and a diversity of ethnic groups were chosen to be featured in this case. The argument put forth to the NLRB was that Jones & Laughlin had violated the National Labor Relations Act with its harassment and firings. The NLRB on April 9, 1936 found J&L in violation of the National Labor Relations (Wagner) Act, and ordered J&L to "cease and desist from such discrimination, to reinstate the fired union members and to make good any losses in pay". The company refused to comply with the board order and appealed all the way to the Supreme Court. The Supreme Court found the Wagner Act constitutional on April 12, 1937. On May 12 through 14th, 1937 the Steelworkers in Aliquippa had their first strike, and won the right freely to represent themselves with the company after so many years.
Even after this monumental case giving unions the right to organize and strike for better working conditions, Moltrup Steel in Beaver Falls would hold out against the steelworkers and a death would result from the hands of a Deputy Sheriff during a prolonged strike.
The steel companies and the persons that worked there would go on to prosper, and thus Beaver County would prosper, continuing through the war years up through the 1970's. In 1979 the Steelworkers would represent about 61% of the total work force in Beaver County, but by 1987 only 2800 steelworker jobs would remain.
According to the American Iron and Steel Institute, the Steelworker in America took a beating in the 1980s with a loss of more than 200,000 workers from company payrolls nationwide. More than 400 mills and divisions of plants closed down. Foreign steel imports rose to more than one-third, and domestic raw steel production shrank to a record low. Since 1986 the steel industry has been faced with chapter 11 bankruptcy filings by at least three major corporations. Beaver County alone lost over 20,000 steelworker jobs and at least five major plants, including B&W, Crucible, LTV, Armco and American Bridge. Most have been torn down and all basic steel operations have ceased forever. By 1987 the steel industry that once employed 450,000 people nation wide had reduced its employment level to 163,000, the lowest level ever.
In the 1960s there were 14,970 Steelworkers employed in Aliquippa alone. In 1997 there were slightly less than that number employed in Allegheny, Beaver, Butler, Fayette, Washington and Westmoreland counties combined.
The Steelworkers did much for Beaver County over the years. They built a hospital in Aliquippa by payroll deduction and their tax moneys helped built three county parks and new school buildings. Many steelworkers served and some are still serving in local government for the betterment of their communities. Many served their country and some gave their lives during the world wars and Korean and Vietnam conflicts.
Although company records are not available for the various local steel plants we know that at least one local steel plant had 253 fatalities from 1913 to 1965 and this company was known for its safety program and tried to prevent accidents, but steel was always a dangerous occupation.
All of the above information was derived from the collection of industrial artifacts, memorabilia, and personal papers of Donald Inman who worked for J&L Steel, now LTV Steel. This collection is now housed in the Beaver County Industrial Museum Located on the campus of Geneva College in Beaver Falls Pa. Museum hours are on Saturdays from 12:30 to 3:30 when school is in session. Special hours and tours can be arranged by calling the executive director Dr. David Wollman at 724-847-6632. If traveling any distance it is best to call to verify opening days and times.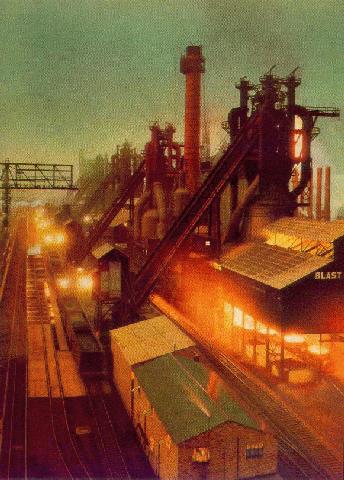 Blast Furnace J&L Steel Aliquippa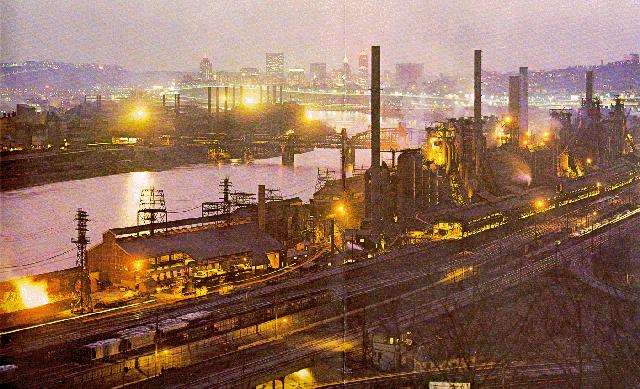 J&L Steel Pittsburgh Works