Return to Beaver Transportation Page
Progress was steady; in 1898 the Beaver House was advertising good accommodations only 35 minutes from Pittsburgh, and by the mid 1920's there was almost hourly service to Pittsburgh and frequent trains from either Beaver or Rochester to every city in the country.
By the 1970s, all trains but one slow commuter were gone. Pittsburgh was an easy drive, and expressways opened up the whole country to the automobile.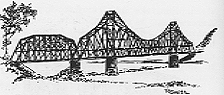 Still a dominant feature of the area landscape is
the massive Ohio River bridge of the P&L.E. RR,
completed in 1910.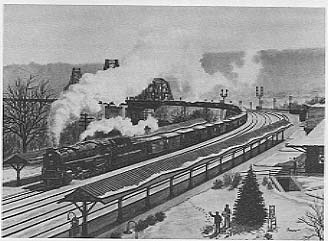 Christmas was near at hand when Howard Fogg
painted this scene of the station area for a
P&L.E. RR calendar.
The neatly manufactured grounds of the Beaver Station were for years the showplace of the railroad system: (BELOW) Today the station building houses the headquarters of the county police department.