The Walton Family and Football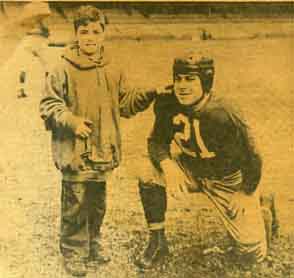 Looking Back
Football was a way of life in the Walton family of Beaver Falls. Frank Walton of the 1944 Washington Redskins is shown with his son, Joe, at Griffith Park in Washington, D.C., in preparation for a game.
Walton came out of retirement in 1944 to help the Redskins during the war year when many football players were drafted. He'd previously played for the Boston Redskins in 1934. The Boston team later moved to Washington.
Walton took over the Beaver Falls High School coaching job in 1935 and remained through the 1940 season. He later was a co-coach with Cal Hubbard at Geneva College and also was physical director of the 300-man air cadets at the college for 18 months during World War II.
He returned to the Redskins and in 1945 was an assistant coach of the team.
Walton also was an assistant coach of the Steelers, Colgate University and head coach of a semi-pro football team in Richmond, Va.
An outstanding tackle for the University of Pittsburgh under Jock Sutherland, he played in the Rose Bowl and was on the first college all-star team against the National Football League champions.
He died in 1953.
Joe was 9 when the above photo was taken. He played end, halfback and fullback for Beaver Falls and graduated in 1953 from the high school. He was all-WPIAL and all-state.
At Pitt, he was a unanimous All-American end and captained the Panthers in his senior year, playing in two bowl games. He also played with the college all-stars against the pros and in the Hula Bowl.
He was drafted by the Washington Redskins and was one of the first to play on the same professional team as his father. He started out as a defensive back and later an offensive end, lie was traded to the New York Giants and was in two NFL championship games, losing twice to the Green Bay Packers.
He was later an assistant coach for the Redskins, New York Giants, and the New York Jets. He is the head coach of the Jets.