Click Here to Return to Milestones
Wallace City--Gone But Not Forgotten
Milestones Vol 31 No. 4
By Jack Goddard
"I see it is back on the New Sewickley Township map," Irene Landis Slayton grinned concerning Wallace City. The happy-go-lucky octogenarian promptly affixed, "I guess they brought all the people back." She admits, "I was just a kid and busy doing other things so I didn't pay much attention." Her grandfather's farm, on a hill above Wallace City, had 42 wells working at one time. "Oil," she went on, "I do remember putting oil on my sister's hair. It made it real dark and shiny."

Local Historian Don Musgrave's whose dad, Avery R., ran the Block farm, laughed and added, "I'm afraid that a lot of us kids were guilty of that." He explained that oil was good skin lotion too. He praised its soothing liniment qualities also. "My dad worked in oil most of his life and credited that for being the main reason why he never got arthritis."

Wallace City is indeed on today's map, but it is official: The only city in New Sewickley Township doesn't exist and is long gone. It's a mere answer to a trivia question today--Just another piece of history that's slowly becoming just that. It'll be recalled as a lot of oil boomtowns were- a twinkle in this thing called a universe.

A Venango County town, "Pithole," is no doubt the best known in Pennsylvania to pull the disappearing act. The city was born as the nation's Civil War was coming to an end, 1865. Within in three months, it had some 20,000 people. Fred Sliter, museum caretaker, honorary mayor, and author, said that "Pithole" had its own newspaper, opera house, theaters, hotels, and of course, soiled doves. Its post office during the final quarter of 1865, ranked third in the state, handling 3,000 pieces of mail both ways daily! However, 12 short years later, it was all over. In 1877, the parcel of land that was "Pithole", sold for $4.37 - a far cry from the two million dollars that it sold for in 1865. Today, the only proof of a town having been there is a couple street signs. An informative museum is also on the site, located on Rt.227 just a few miles east of Drake's Well and Titusville.

Soon after this field folded, many of the workers packed up and came south to the action in Economy Township and New Sewickley Township. Oh, the local community wasn't fancy enough to have its own newspaper, opera house or theaters, but it did last longer than its counterpart to the North. Its legacy goes on since it's on the Economy Borough map too. Although a little weird, its lasting quality can be seen by traveling west on the Turnpike and going under Wallace City Road.

Here's hoping I do justice to a story of that city which refuses to go quietly into the night. It had no intention on being here one minute - gone the next. We'll start at the very beginning.

It wasn't the first oil field in Beaver County, nor the last. The first hit was at Smith's Ferry in 1860 while "black gold" was found at Glasgow in 1862. Then 1885, oil was discovered by the Raccoon Oil Co. in Hopewell Township at a place called "Gringo." This town was so named by an odd method. A local speakeasy reported, "Men would get a drink, grin and go." So, they named it "Gringo." This is probably the only town named after a bar! In later years, 200 wells are under the waters of both Kinzua Dam and Lake Arthur.

Economy Township, in 1800, was part of gigantic Sewickley Township. In 1801, this big tract of land was divided into two townships, North and New Sewickley. Economy Township was carved out of the southern end of New Sewickley in 1827 and included Ambridge, Baden, and Harmony Township.

The first community to break away was Harmony Township in 1851. Baden followed suit and went on its own in 1868. Conway was the next to merrily run along in 1903. Followed by Ambridge in 1905. "Economy Township became a chartered borough in 1958," according to Musgrave.
"Frank Neeley was the first to strike oil in 1869," he added commenting that his farm was located in the Tevebaugh Hollow behind Baden. From that point oil had a "domino effect" on the area as farm after farm began drilling. The wells, about 1,300 to 1,400 feet deep, were drilled into what is called "hundred foot" or mostly into an oil-bearing type of sand. Jim Floor, of Ridge Road, noted that, "there are still some wells pumping in that area today.

It wasn't long until oil was discovered on several other area farms. By the turn of the century, the locality was being pounced on by oilmen from other areas, including Franklin. Unpainted wooden buildings quickly sprang up and the intersection of present day Rt. 989 and Freedom-Crider Road became a beehive of activity.

Ms. Slayton's first cousin, Glenn Landis, said the town's main and the most popular place was, "Jacob Bishop's packed General Store." It sold about everything one would need then: chewing tobacco, candy sticks, flour, pickles, pots, pans, and other foodstuff. Also sold were work clothes, gloves, hats, shoes, and rugged boots for those working in the fields. "Both my dad and uncle were oilmen," Landis said in closing.

There were several blacksmith shops, a much-needed doctor's office, several dwelling shacks and boarding houses. "We even had a hotel up here," Economy's Musgrave said, indicating it was up the road. An all important telegraph office was also in town, and it'll be told later how critical that major communications utility would become.

Folks in Wallace City could look out on the derricks built up on all the once fertile fields. Oil was pumping at its fullest. The sounds weren't cheery little songbirds or farm implements clanging anymore, instead one could hear the echo of pipe hitting pipe, gears meshing or the smudge-faced oilmen yelling back and fourth.

The Robert Wallace farm, located on Dunlap Hill, was among those that struck early. Thus it became probably the most prominent. Therefore, the little town that mushroomed at the bottom of the hill was dubbed "Wallace City." Virginia Roemoele, who now resides near where that property was, points out that the said land was where the first phase of Ryan Homes (Ridgewood Plan) is now.

Ms. Juanita Reed, a former Economy Tax Collector, is a granddaughter of Mr. and Mrs. Robert Wallace and grew up on that farm after the untimely death of her parents. "I remember filling the family car with it, right from the tap so to speak, and going across the fields," she laughed. Ms. Reed is currently a resident of the Chippewa Outlook Pointe Personal Care Home on the Pappan business drive off old Rt. 51.

For a further understanding on how this worked, yours truly went to a couple of experts: Bob Castelli and engine historian-television personality Keith Blaho. Castelli, a high school friend and the owner and operator of a small engine repair shop on Miller Road near the New Sewickley municipal building said, "In those days vehicles had multi-fuel engines. They were able to run on anything that would burn." Blaho agreed. "But," he smiled, "It'd smoke like crazy." It was also pointed out that some military vehicles are still powered by these "multi-fuel" motors.

Farms of interest in Economy included; The Reed Homestead, Frank Neeley's, Hagan's, Stewart's Farm, Smith's, Bradford's, the Whipple's, Dunn's Farm, and Bock's property. Musgrave also started oil wells on the Pfaff Farm which belonged to Henry Blank. This tract of land is located behind the Grange Hall (now inactive) on Conway- Wallrose Road.

Although it has nothing to do with the upcoming oil boom itself, this writer was intrigued as to how "Wallrose" entered the Economy vocabulary. According to the Historical Outline of Economy Township booklet, a Henry Gross was the responsible party. He broke away from the Harmony Society and opened a small store on what was the Pittsburgh- Rochester Road. After a torrential downpour, dirt began sliding by his store onto the road. He was building a retaining wall when a neighbor praised it and suggested he plant roses on it to keep it even more stable. Gross thought a "wallrose" was a good idea and, a new word entered the local glossary.

Fast forwarding a few years; many farms in New Sewickley Township at this time were enjoying the oil boom. Most properties from Pfaff's near Baden to Big Knob were erecting oilrigs, in hopes of finding that brownish green or amber stuff. Before it was said and done, the field was over six miles long and a good two miles wide. Landis probably had the largest farm while others included: the Morgan's, McElhany's and Kammer.

Musgrave cited that the South Penn Oil Company of Freedom held most of the oil field holdings at that time. Quaker State also owned some rights on the local market. South Penn, reportedly, sold out to Ashland and was later bought out by Valvoline.

The Bock Farm had just been purchased by the Musgrave family around 1904. "You could say it was in transition," Don smiled. But, he continued, it was written in the lease that the Bock family received most of the proceeds.

Later the same year, on October 4, 1904, the 83 year young Musgrave stated that they hit such a "gusher" that it took three days to get under control. "Meanwhile that slimy crude splashed down over the hill into the river." This is where the importance of the telegraph at Wallace City shines through.

"They had to telegraph New Orleans to alert them and warn all boats in the river of the big slick coming down." He then put it into perspective, "It was putting out 85 barrels an hour. There are 43 gallons to a barrel so over three days of constant flow....." Whew, it's mind-boggling as to how large it would be.

"Frank Neeley's Farm was directly down the hill from us. He had just cleaned out his tanks, but our oil filled 'em, again and again," the jovial Musgrave laughed. "Yep he got lots of free oil-even being down!"

He stressed that this eruption shouldn't be confused by a Robert Wallace well which put on it own show. It sprouted 1,400 barrels a day and the geyser came out of nowhere. Thousands of kegs flowed into Crow's Run before it could be stymied. Five hundred barrel storage tanks were built to stop this one, and a three-inch line was put down.

The peak came when the No.2 well on the Robert Wallace Farm hit it big. The drilling around Wallace City would go on until 45,000 barrels a day was produced. The smaller Whipple Farm accounted for 2,600 of those vats. Many of the wells dotting the Stewart Farm turned out 250 kegs a day.

Although the Wallace Farm was the most notable, it was small and had only 17 wells. The most one person had in Economy Township was the Stewart's with 30. The Bock property had 19, the Whipple Farm 17, and the Smith's had 10 or 12.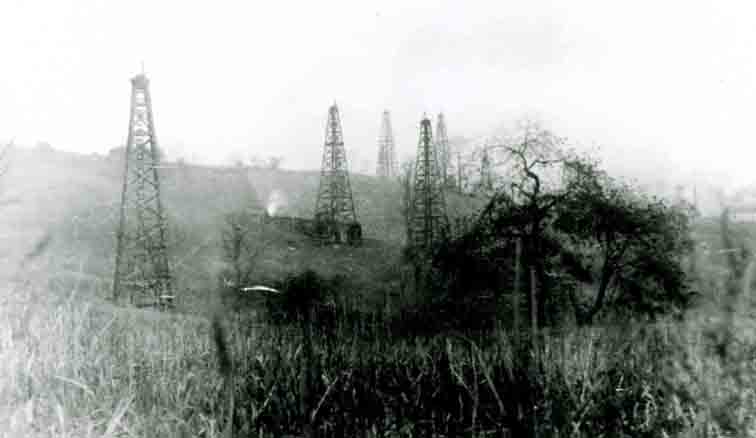 A view of some of the many derricks at Wallace City.


Even a church got into the act. The congregation of the United Presbyterian Church (Rehoboth), which owed property boarding the Robert Wallace Farm, made out a contract giving the Strohecker-Lamberton firm of Zelienople, the right to bore for oil. It was agreed that the church would be paid $200 for each 50-barrel well. The sum of $1,000 would be paid to the church if a strike as good as the No. 2 Wallace well was unearthed.

These monies would be besides the standard 1/8 land owner's royalty for product sold. The church received a very small income as neither of their wells brought much forth. Rehoboth has a very interesting background. It was one of the areas oldest churches, organized sometime between 1840 and 1850 as a Presbyterian Church.

The congregation, because of unrest, became inactive in the 1870's. The now empty building was used as a sheep shelter for a number of years. Finally, Dr. William A. Passavant and Dr. George Y. Boal purchased it and, after a thorough cleaning, organized a Lutheran congregation. A new church was dedicated on December 4, 1904, which served the congregation until 1967. "It's a predominantly German neighborhood," Musgrave said. "We figure 75% of those in Rehoboth cemetery are inter-related."

"Sinkholes are a big problem today," Marcia Scheel of a Wallace City farm stated, "And figure this property had 42 wells on it." Her husband agrees, "And some still oozing after all these years." Both explained that how the oil wells were left caused havoc. "I'll bet that only half are capped correctly." Marcia stated, "Sinkholes appear overnight and we're afraid for the grandchildren," they echoed. They are the current owners of what once was the Landis Farm.

"My son's house was here too," Fred said. "It was, let's say, the "social club" with women and moonshine." The rumor is that the "club" was owned by an unmarried old man with no friends. "He didn't trust banks and so he hid his money," Scheel smiled. Then with a more somber look, he frowned, "I took out the walls and everything to remodel. Even did some landscaping-but I never found anything."

"The region was also served by a train," railway expert Wayne Cole volunteered. The author of several books on the mighty vehicle, Cole continued, "It was owned by the North Shore Railroad." About six miles long, it connected with the Pennsylvania Railroad lines at the mouth of Crow's Run. It was put in early to transport coal and oil field equipment. A turntable was installed so it could turn toward the way it came from.

By 1902, it was necessary to extend the railroad further up Crow's Run through a pair of tunnels. "This is where the train went," Ms. Slayton said, pointing to her garden. Train officials had planned on cutting across Butler County to the Pittsburgh and Western line at Callery Junction; that didn't happen.

But as that old saying goes, all good things must end. Drillers began sinking hole after hole, only to strike-nothing! Panic set in among investors and the city began fading into oblivion. Grass could be seen sprouting again amidst some of the now idle wells. The songbirds returned, and by 1937, all pipes were pulled. The derricks were dismantled and the railroad tracks were torn up. The two tunnels, off Park Quarry Road, have now almost totally been reclaimed by nature.

Ms. Roemoele, who has been invaluable as to providing details, maps, and tips, remarked that she still has evidence of the abrupt ending. "I still have pipes rusting on my property." When the oil stopped flowing, the men hurriedly pulled the pipes out and "capped" the wells with whatever was available-a stone, clay, dirt, or cement.

Things are pretty quiet now. Just a few wells continue to operate. Most are in the Tevebaugh hollow woodlands. Musgrave said a man named Anthony Cook owns those mineral rights in that area today. "I understand he's a descendant of the family that Cook's Forest is named for."

Part of what was once "Wallace City" oil field's. This photograph was taken in 1978.


It seems the majority of seniors living in the Economy Township and New Sewickley Township region, believes that "there is still gold (the black kind, that is) in them thar hills." Why the government isn't interested during this time of crisis is beyond me. Or, is it a crisis? It's interesting to note that both Lake Arthur and the Kinzua Dam, which each covers about 200 wells, were built in the mid 1960's--during the time Lyndon B. Johnson, another Texas oilman, was president.

For our situation: Ms. Roemoele speaks out and says, "They just got the easy oil." Son Randy agrees stating, "They only skimmed the top." Musgrave shakes his head in the affirmative and explains, "These wells yielded only about 20% of the oil here. There's still 4/5's there."

Fred Scheel is in total agreement. "If we all had the mineral rights and younger people knew what they were sitting on, we'd all be in mansions." Flook nods his head, "It's been a curse. When we had to drill our own water wells, we'd have to go real deep or there would be slime on the water. Yes, there's no doubt about it."

A mere handful of folks know the real story behind the city that won't die. It was a time when the lush green fertile lands were turned into a dust bowl in the summer and a mudstye in the winter. For about 30 years, local farmers, instead of tilling the soil, grabbed for that brass ring.

Today, there isn't much evidence that Wallace City ever existed: some rusting pipe here and there, several places where one can see salt water seeping above the ground, and those dangerous sinkholes. Did it meet the criteria to be labeled a city in the modern world? Hardly. But, it did for scores of people at one time.

However, dust to dust ........
Bibliography

Caldwell's Atlas: History of Beaver County

History of Beaver County 1904: Dr. Bausman

Pithole: The Vanished City: William C. Parrah

Rivers of Destiny: Many authors - A project of Beaver County Historical Foundation

Other Publications

150th Anniversary of Economy Township: Barbara Kenny Fitzp
atrick and Michael Troyan

Dean's Column: C. S. Dean, News - Tribune Beaver Falls, Pa. Feb. 1952

Historically Yours: Gladys L. Hoover

Then and Now: Fred Sliter; D & S Printing Titusville - Fall 2006

Wallace City: A Boomtown Remembered: Rich Wasko, Beaver County Times, Aug. 6, 1978