9
The Old Reservoir and Water Lot
The old sandstone reservoir, located at Fifth and Wayne Streets, not only stands as a reminder of the water system of Beaver from 1845 to 1886, but as testimony to the foresight of the founders of the town of Beaver in guaranteeing a water supply to its citizens.
As early as 1791, Judge Alexander Addison of Washington County in a letter to General Thomas Mifflin, Governor of the Commonwealth, proposed that the land containing "a certain spring at some distance from the town being the only source of water, a sufficient quantity of ground be reserved round it."
The legislature had approved the sale of 3,000 acres on both sides of Beaver Creek in 1783. As a result of Judge Addison's letter, and a reminder he wrote in 1796 after the legislature had approved the survey of the land, he was named commissioner of the sales. In 1799 the two water lots were added, the second being at the foot of what is now Windy Ghoul, a little distance north and west of Market and Fifth.
Originally, the borough fathers channeled the water from as many springs as possible into a number of spring houses, but as the demand grew, deep wells were sunk at Market and at Beaver Streets, and water was carried to them and to supply stations from a reservoir such as the one now restored, by way of hollowed-out logs, bound at the joints by iron bands.
The solidly built sandstone structure was partially restored by the Beaver Area Heritage Association in 1969, and a marker erected in 1972 by the same organization. There is still work to be done in restoring the facade and surrounding grounds.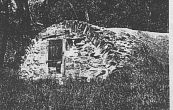 The Old Reservoir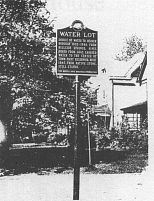 Historical Marker