3
The James Allison House
620 Third Street
The James Allison house, one of the few remaining early great homes in Beaver, was planned and built about 1816 by James Allison, Esq., who became the leading figure in the life of the town and county in the first decades of the 19th Century.
Born in Maryland, but raised and educated in Washington County, he came to Beaver as a young lawyer in 1802, became the first district attorney in 1803, and the county's third member of Congress in 1822. He was re-elected, but resigned prior to his second term, preferring the life of Beaver to that of the nation's capital.
The house, a fine example of Tidenater Virginia architecture, was one of the showplaces of the town, befitting its leading citizen. Framed, roofed and floored in solid oak which the builder had cut eight years before to insure proper seasoning, its rugged strength would dull the chisels and augers of workers nearly one hundred years later when modern utilities were installed. Its wide front door, with heavy brass fittings beneath a graceful fanlight, opened into an equally wide center hall which took one through the first floor into a garden extending the length of the block.
The dwelling was retained and occupied continuously as a home by the Allison family until the early 1900's when it was converted to commercial use.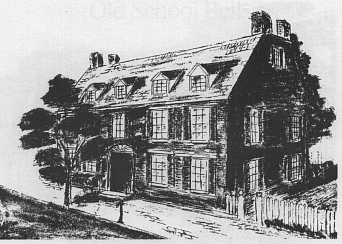 The above sketch of the James Allison house is close to its
appearance before additions were made to the third floor
and first floor was converted to retail stores.