J&L Yesterday and Today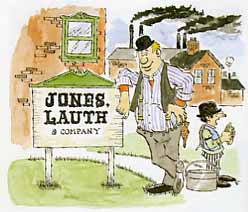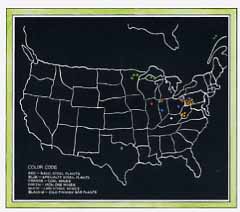 Way back in 1853, Benjamin Franklin Jones bought an interest in a small iron works owned by B. Lauth & Brother. The firm was located on the south bank of the Monongahela River at a spot that's now part of Pittsburgh's Southside. The company's name was changed to Jones, Lauth & Company. Three years later, a merchant/banker named James Laughlin became a limited partner.
In 1859, Mr. Jones, Mr. Laughlin and several associates founded Laughlin & Company directly across the river. This same group bought out the Lauth's interests in the Jones & Lauth operations when the partnership was dissolved.
In 1900, the two operations were consolidated as Jones & Laughlins, Ltd. Two years later they were incorporated under the name of Jones & Laughlin Steel Company. -
Today, J&L is a wholly owned subsidiary of The LTV Corporation of Dallas, Texas. In 1978, LTV merged with the Lykes Corporation, parent firm of Youngstown Sheet & Tube Company. Youngstown Sheet & Tube, also known as Youngstown Steel, was founded at Youngstown in 1900. It grew by acquiring a number of smaller steel plants and in 1923, purchased The Steel and Tube Company of America at East Chicago, Indiana, which became the Indiana Harbor Works, Youngstown Steel's largest and most modern steel making facility. With the merger, J&L has grown to become one of the nation's major steel producers.
The map (above) shows where our works, plants and raw materials operations are located. As you can see, our basic steelmaking facilities are at Aliquippa and Pittsburgh, Pennsylvania; East Chicago, Indiana; Cleveland and Youngstown, Ohio. These works also have extensive finishing facilities that manufacture finished carbon steel products, such as sheet, tube, wire, bar and others* We also make stainless steel atour Warren, Michigan, plant.
Our Hennepin Works, in Illinois, and other plants do not make steel. Instead, they finish the steel produced at Al iquippa, Cleveland, Pittsburgh, East Chicago, Youngstown or Warren.
Our corporate headquarters are located in Pittsburgh. Here you'll find our senior executives and the many administrative personnel who direct the operations of our various facilities. J&L's eastern division has headquarters in the Aliquippa Works, the central division in the Cleveland Works, and the western division in Whiting, Indiana, near the Indiana Harbor Works.
*Products will be described in detail later.