Click here to go to previous page
Foster McCarl

Born in 1923, Foster McCarl served in the U.S. Air Force from 1944 to 1946, founding McCarl's Plumbing and Heating Company (later McCarl's Inc.) in 1946. He was an active member of the Chippewa United Methodist Church, served as a member and president of the Beaver Falls Chamber of Commerce and was a member of the Blackhawk School Board of Directors for more than 20 years.
McCarl served on the Medical Center Foundation, the Heritage Valley, and the Pittsburgh Symphony Society Boards. He was chairman of the trustees of Local Union 47 Welfare and Pension. Board memberships included the Mechanical Contractors Association of NW Pennsylvania and America and the Mechanical Contracting Foundation, He received many awards including Young Man/Man of the Year, Contracting Business Hall of Fame, MCAA Lifetime Achievement Award, Ronald McDonald House Charities, Sons of American Revolution Lifetime Achievement, Geneva College Distinguished Service Award, and the Beaver County Foundation Pioneer Award.
McCarl, who passed away Jan. 24, 2007, was married to Muriel Phillips McCarl, his wife of 62 years. They have four sons, 12 grandchildren and five great-grandchildren.
McCarl Foundation
The McCarl Foundation has been very generous in providing funds to build the Industrial and Agricultural Museum and in providing sustaining grants for its continued operation.
Brian McCarl, one of Foster's sons is a board member of the Little Beaver Historical Society.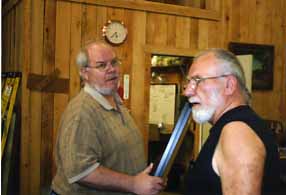 Brian McCarl (on left) discussing displays with Keith Blaho.