Background of Beaver County History Online
by Charles Townsend

---
A new initiative in Beaver County History was launched on May 23, 1998. This was Beaver County History On-Line at www.bchistory.org
This project is striving to put Beaver County's rich historical heritage on the Internet, thus making written documents and pictures available to all local residents, schools and other organizations as well as being available to the worldwide audience.
One of the norms for history is the theme of continuity and discontinuity. It is the balance and tension between these two dimensions that moves history forward. On a microcosmic level this explains Beaver County History On-Line. On the side of continuity is presenting history in a traditional linear way through documents and books, historical archival collections, museums, historical society meetings, and through speaking engagements. In the new technology driven knowledge paradigm, another mode of presentation offers its discontinuous presence--presenting local historical knowledge over the Internet. It does not replace, but merely complements the many fine projects already in existence thanks to the varied efforts of Beaver County's individuals, historical societies, and organizations.
The genesis of this project occured when a book written by my sister, Peggy Townsend, and myself cried out for a publisher, but to no avail. So I published it on the web server at Beaver High School where I was the technology coordinator. The book, Milo Townsend and the Social Movements of the 19th Century, centers around the antislavery movement and other causes in Beaver Falls and New Brighton. We are also working on a history of South Beaver Township. Why not put this on-line when it is finished? If we can do that, why not all of Beaver County? I can go on-line now and find out almost everything about national and international history: Why not Beaver County history?
So in the Spring of 1998 I started putting some local history on-line. Larry Mahon, then president of the Little Beaver Historical Society, sent some Darlington information my way which went on-line. In August George Schmersal (a computer teacher in Beaver) and I taught a web publishing class for teachers. They became interested in the project and put up some history on each community in the county.
Beaver students Kate Falloretta, Bill Murphy, Keith Shovlin, Jordan Thomas, Chris Walker, and Greg Steel are some of the students who also helped with this project.
Bill Murphy, Jordan Thomas, and Kate Falloretta
Keith Shovlin took on Beaver history as a major project. Throughout his two years on the project, he put up all the Beaver Heritage Society publications. He also created many of the graphics and was the webmaster for the site. Without his hours of hard work, this project would never have succeeded.
Keith Shovlin
A Beaver County History On-Line project meeting was held on September 18, 1998 at the Ed Schaughency Memorial Theater at Beaver Area High School. Representatives from many of the county historical organizations attended and have since been very helpful in providing information and resources.
Members of the various historical organizations in Beaver County at Sept 18 meeting.

Charles Townsend presenting at Sept. 18 meeting.
Beaver Area School District, along with Big Beaver Falls School District, received an educational grant of $137,000 to be partially used to help students collect and Internet-publish Beaver County history. A second grant for $60.000 was received by the Beaver Area School District to publish historical information over the Internet. Both of these grants were in conjunction with various local historical and community groups including the Beaver Area Heritage Foundation, Beaver County Historical Research and Landmarks Foundation, Graule Photographic Studios, and The Resource Center for Beaver County.
Besides these groups many other groups helped in one way or another including:
Beaver Falls Historical Society and Museum
Little Beaver Historical Society
Laughlin Memorial Library
Merrick Art Gallery
Midland Library
Midland Heritage Room
Steel Museum Associates
B. F. Jones Memorial Library
Beaver Area Memorial Library
Rochester Public Library
Wagner Memorial Library
A special thanks goes to Mrs Ambrose of the now-closed Freedom Library for providing all the information on Freedom that is now on-line.
Besides these organizations many Beaver community members and people from throughout the County have provided valuable information and help. I would especially like to mention: Denver Walton, Eugenia Walton, Brenda Applegate, Bob Bauder, Ted Masson, Bob Batto, Don Inman, Clyde Piquet, Kevin Cooke, Barb Cooke, and Faith.
Throughout this project, Dr. Schaughency, Superintendent of Beaver Area Schools has been very supportative as have been the School Board and many teachers throughout the system. Without the support of the Beaver Area School District, this project would never have become a reality.
Special mention also goes to Bob Davis, Network Specialist at Beaver Area Schools. He has given many extra hours in solving the technical side of this project. Many a Saturday afternoon would find him solving server and network problems for Beaver History Online. He is also extremely helpful with students working on their web pages. Dale Farland, Assistant Technology Coordinator has also spent much time helping students and teachers with their projects.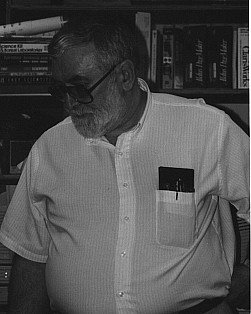 Bob Davis
In March of 1999, I became very ill and eventually had to retire. From the Summer of 1999 to the Fall of 2001 little was done on the project. As of Dec 28, 2001, a new batch of over 170 articles and pictures are being added to the site. I hope to have information added every couple of months.
As an educator, I am especially interested in having local history on-line for young people. This is a project which every county school can participate in by having students add resources to the collections and using the electronic collections for classroom assignments and enrichment projects. As students study American history, they can now see how the period under study was reflected in their own county or their own town. For example, when studying canal transportation, they can go to the local web site and read about the canals in Beaver County and see pictorial examples in New Brighton or other river towns. This project can also be an inter-generational forum for history makers, senior citizens and children to share lifetime experiences and interests.
If anything, this project will eventually make available to anyone with access to a computer a large volume of local information which is often hard to locate. Since starting the project we have had people doing research from as far away as Japan and England. I recently had a former Beaver County resident living in California E-Mail me historical information about Freedom and Rochester which I will put on the web. Local school children are already doing research at this web site.
If you have any articles or pictures that would add to this on-line collection, please contact me: Charles Townsend, 352 Moore Road, Darlington PA. 16115. Home phone: 724-846-3487; E-Mail: walkerkiln@earthlink.net You can have your cake and eat it too. I will scan in your articles and pictures, and the originals stay with you. And what you share will help future generations of historians gain insight from the past. I would like to also hear from anyone who is interested in helping with this project. Computer expertise is not necessary. For example, I hope to put on-line the location of all historical resources in Beaver County--what is located in libraries and museums--so that people doing research would be able over the Internet to locate needed documents. I need help cataloging these locations. Also, if you have had interesting experiences or have historical knowledge, please contact me so that we can interview you.
All back issues of Milestones are now available here.