Click Here to Return to Milestones
Lincoln Highway
Milestones Vol 23 No 1 Spring 1998
The Lincoln Highway traverses southern Beaver County, a road we may have crossed while going to Raccoon Creek State Park or followed a short way when going to Chester, West Virginia. Many will be surprised to learn that the first Lincoln Highway followed quite a different route, including a stretch of Tuscarawas Road in Brighton Township.
When established in 1915, the Lincoln Highway extended from New York to San Francisco and was the first nationwide highway. Generally following the Forbes Road into Pittsburgh and the Ohio River to the west, the highway was little more than a dirt track. It wasn't until 1919 that the State of Pennsylvania began paving it.
The original path of the highway entered Beaver County from East Liverpool's East End on old Pennsylvania Avenue, now closed. It curved down to Little Beaver Creek crossing it and the Sandy and Beaver Canal on a covered bridge (the west abutment is still visible.) Following the creek downstream, the Lincoln Highway went under the railroad tracks into Glasgow Borough, turned east onto Liberty Avenue and continued on into the old village of Smith's Ferry.
Back under the tracks of the Cleveland and Pittsburgh Railroad, the route then followed Smith's Ferry Road up the valley of Upper Dry Run, crossing a sturdy cut stone bridge (still there.) Reaching Tuscarawas Road, it turned east and followed the old "Great Trail" on the ridge into Beaver.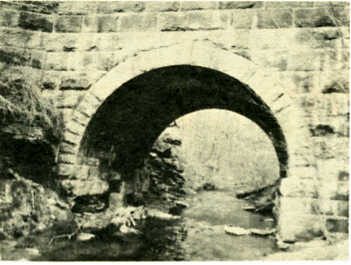 Stone Bridge on Dry Run
Turning onto Third Street, the Lincoln Highway led east to Bridgewater, curving down to Bridge Street, crossing the Beaver River to West Madison Street in Rochester, then east again on Brighton Avenue. The road then turned south on New York Avenue, crossed the Pennsylvania Railroad tracks on grade, then turned east on Railroad Street near the old brewery.
The highway crossed the tracks again on a narrow bridge and entered Freedom. Here the Lincoln Highway passed the house of Captain William Vicary, soon to be the home of the Beaver County History Center. Following Third Street south the highway entered Conway on Beaver Road which became State Street in Baden. Passing the sites of Legionville and Logstown, the highway entered Ambridge on Duss Avenue. Continuing southward our highway cut west on 14th Street and south on Merchant Street, leaving Beaver County on the massive stone arch bridge over Big Sewickley Creek at the south end of Ambridge.
In 1927, the route was changed to the present one, which enters Beaver County from West Virginia into Greene Township and follows a generally southeastern course into Allegheny County near Clinton. From a time when the Lincoln Highway was "the Main Street of America", the famous road is only a secondary route today due to the Pennsylvania Turnpike, which now takes most of the traffic from Pittsburgh to the west.