Click Here to Return to Milestones
Local State Parks Have Historical Ties
By Joe Jonas
Milestones Vol 15 No 2 Summer 1990
There are three local State Parks - Raccoon Creek State Park in Beaver County, Tomlinson Run State Park nearby in Hancock County, WV, and Beaver Creek State Park, a few miles away in Columbiana County, Ohio that are developing into three highly enjoyable recreational spots. And, as an added attraction, they are all rich in historical lore. Yet there are many local residents whose depth of knowledge about them is vague to nil. Hopefully the following review may give the public some idea of what they can look forward to should they pay them a visit.
First, let us highlight briefly their collective recreational facilities.
Lake and stream fishing, boating, canoeing, swimming, tennis, miniature golf, horseback riding, hiking, or picnicing, cooking out under pine trees, pavilions the open sky. Also overnight camp sites, and, many annual scheduled events.
Fine for recreation. But how about the historical aspects which is our primary interest? The answer is that there is almost enough of the historical to mix with the recreational to make a big case for the magic word - tourism. The most successful tourist areas in the world are usually a balanced meld of history and recreation. So we'll attempt here to highlight the historical without removing it from the context of the total picture.
RACCOON CREEK STATE PARK
Total area 6908 acres. Located off routes 30, 18 and 168.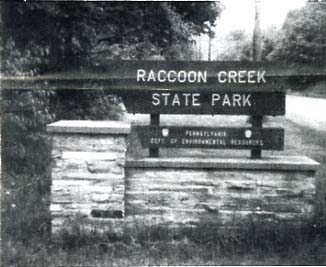 This park's beginning goes back to 1934. The NATIONAL PARK SERVICE began development of the land as a "recreational demonstration area". They did not complete the project, however, and turned it over to the State in 1946. They in turn designated it as a State Park.
Frankfort Springs, however, which is located in the park, dates back to 17901 and was once a famous resort. It drew hundreds of people from the Pittsburgh, Wheeling and Stubenville areas. Edward McGinnis purchased 12 acres of land which contained the mineral springs and proclaimed that they had curitive powers. He then built a large hotel-dining room, a dance hall, a three story guest house and related facilities. It must have been impressive, here on America's first frontier (as the strains of music from a stringed band playing a Virginia reel wailed into the night) to see the elegance and grandeur of the ballroom shining forth on a warm summer's Friday evening.
King's Creek Cemetery is another historical entity in the area. Many of the County's first settlers are buried here. Steps are being taken to make various improvements.
The 101 acre Raccoon Lake is the main attraction at this park, providing boating, trout and bass fishing and swimming. Traverse creek which provides the water and drains the lake also provides excellent fishing. There are many roadside picnic tables available on a first come first serve basis. Also 161 family camping sites for overnight stays. Three organized group camps with a combined capacity of over 300 acre available for non-profit groups.
Hikers may take advantage of trails in many areas. Special programs are offered all year by the park's education and interpretive section.
TOMLINSON RUN STATE PARK
Total area 1,401 acres. Routes 8 (off 30) and 2.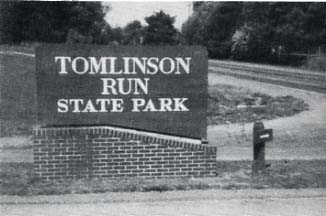 This park is located at the extreme tip of West Virginia's northern panhandle, near New Manchester, in Hancock County. It was begun in the early 1930's by the CCC (Civilian Conservation Corps), the Conservation Commission of West Virginia and the Hancock County Court.
One of the most famous hand to hand fights between a white man and an Indian happened in the late 1700's between Andrew Poe and BIG Foot within a short distance of this park, on the bank of the Ohio River. With long rifles, long knives, tomahawks and everything else that could be involved in a life and death struggle, Poe fought, and lived to tell the story many times for many more years. BIG Foot's fate was uncertain. Asa tribute to the two adversaries, each has a hiking trail named in their honor in the park. There are also four other hiking trails in this park.
Another of the stories often told about this area is of the wealthy cattleman who did not believe in banks and buried large amounts of money somewhere on land that is now the park. Forget it - Absolutely no digging is permitted in the park.
An Olympic size swimming pool was completed in 1986. A 29 acre lake is available for paddle boating and rowboats are also available. There are four bass ponds, tennis courts, and miniature golf. Two large pavilions and many picnic tables also may be used.
There is a 50 site campground available for overnight family visits and a group campground with a capacity of 100.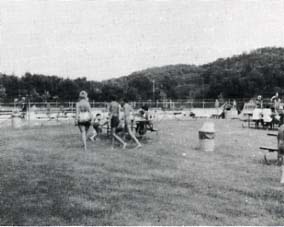 BEAVER CREEK STATE PARK
Total area 3,038 acres. From Calcutta, Ohio take Bell School Rd., then turn right on Echo Dell Rd.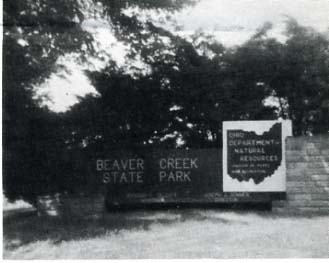 The Beaver Creek State Park area was established in 1945 with a gross average of a possible 20,000 acres. The nucleus of this park is Gaston's Mill, a 19 century grist mill. Thomas Whitacre built the mill about 1837. The next owner was Philander Gaston who operated it longer than any other owner, hence the name. It operates on waterpower, is built almost entirely of wood and utilizes authentic mill stones. On weekends during the summer it grinds corn meal, whole wheat and buckwheat flour, which may be purchased at the mill.
Adjacent to the mill is Pioneer Village. Buildings include a pioneer's cabin, a log school house, blacksmith shop, outhouse, and church. All buildings are decorated with authentic artifacts. A covered bridge is located below the mill. Several locks of the Sandy and Beaver Canal are located in the general park area on the Little Beaver Creek. About 40 locks are located on the middle branch of the creek between the Ohio River and East Bolivar. Those locks located near the mill are being rebuilt to original specifications.
Many acres of tall pine trees border the Little Beaver Creek which traverses the park. Picnic tables and stationary grills are placed at convenient locations under the trees. Pumps supply drinking water and restroom facilities are nearby. Horseback riding, hiking trails and campsites are available here.
PIONEER DAYS is the largest annual event and takes place the first weekend each October. This is then, just a brief introduction to some of the history and fun that awaits a visitor to these parks.