Click Here to Return to Milestones
Mildred Arbutina Saves Vicary Mansion
Milestones Vol 27. No. 4
by Denver Walton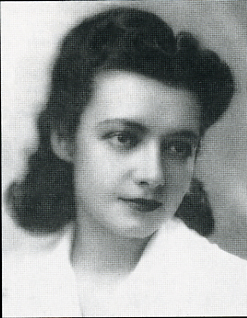 Mildred Arbutina, who would have such a great influence on Beaver County history, was a light-hearted woman with an easy smile. She was born in Loraine, Ohio, then moved to Freedom with her family where she would graduate from high school in 1933. She attended Duff's Business Institute in 1937. When no job turned up locally, she went to Harrisburg to fill a position with the state government. Later she worked as a legal secretary in New York City. She moved to Washington D. C. where she was a staff member for the Woodrow Wilson International Institute for Scholars.

It was in Washington that she met Leo B. Pappas, a CIA staff member. They were married in Rochester in 1956. Leo was assigned to positions around the world: Athens, Greece; Germany; and other places, and Mildred went with him. During the Vietnam War, Leo was sent to Vietnam, and Mildred promptly went to Hong Kong to be as close to Leo as possible. She traveled with two cats, and insisted that they not be quarantined in Hong Kong. It was a battle, but she won.

Mildred's claim to fame came in the early 1970's, when she learned that the Vicary Mansion was to be demolished to make room for a highway ramp. She immediately started a letter writing campaign that covered several years and involved hundreds of letters to state and national officials, Penn DOT director, historians, and anyone else that she thought could help. She won that battle, too, and the Vicary Mansion was saved. Beaver County residents will be forever grateful to Mildred for her successful effort to save our beloved mansion.

Earlier this year a bronze marker commemorating Mildred's accomplishment was erected in the flower garden near the front door of the Vicary Mansion. This was largely due to Mildred's brother, Millard , who wanted a permanent record of his sister's achievement. Millard has become a frequent visitor to the History Center that has grown up in "Mildred's Home."

Mildred passed away this year (2002). Leo is retired and lives in Washington, D. C. Mildred's spirit lives on in the house she saved.