Click Here to Return to Milestones
Lincoln's Secret War-Time Visit to Beaver County
Milestones Vol 28. No. 3
By Harold E. Boyer

This rear section of the canal boat, JACK BOYLE, shows the main party discussed in this Milestones.
Editors Note--This issue of Milestones is almost exclusively dedicated to an article researched and written by Harold Boyer. We are very impressed by the subject, the depth of research, and the conclusions reached. Mr. Boyer has spent approximately ten years working on the evidence presented here. He has traveled around the country to gather information and opinions. We think he makes a good argument, but it is ultimately up to the reader to decide on the astounding conclusions presented here.


Much has been written about newly-elected President Abraham Lincoln of 1860 and his February, 1861, inaugural trip to the nation's capital, which included an overnight stay and a speech in Pittsburgh plus a stop at Freedom and Rochester in Beaver County

A new discovery strongly indicates that the President and Party made a brief and secret visit to an isolated area north of Beaver Falls ten weeks after the early March inauguration. It is well known that much had happened historically during those early weeks of Lincoln's presidency including the firing on Ft. Sumter, the siege of Washington and the arrival of northern troops to defend the capital.

Much emotion was experienced by this writer in the mid 1990s when I purchased a box of photographic plates from the Marx Estate Auction in Beaver Falls. This lot included glass plate negatives of canal boats, locks and bridges plus a quarter plate original ambrotype photograph of a docked canal boat named JACK BOYLE. A large group of people were on the boat posing on a bright sunny day with strong mid-day shadows and partially grown new foliage visible to trained eyes. According to Mrs. Marx, her late husband acquired this box of images from an unidentified, to date, Patterson Heights, Beaver Falls, client where he was performing carpentry work in the 1960s.(1)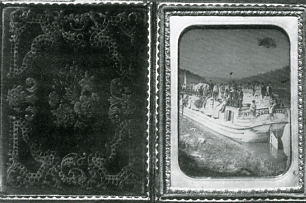 The original ambrotype purchased at auction in Beaver Falls.


This excitement increased greatly after years of careful research which resulted in the identification of at least eleven persons in the boat.(2) As detailed later in this article, those firmly recognized are: President Lincoln and his two youngest sons, William Wallace and Thomas; two famous Lincoln bodyguards; one of the President's three secretaries; several relatives of Mary Todd Lincoln; a local friend of the Lincoln family, Dr. David Metheny; and a young hometown buddy of Willie Lincoln from Springfield, Illinois.

It is still unknown who the photographer was for this historically important picture. However, inasmuch as a glass plate in this purchased collection included a photographic scene of a photographer's identified wagon used by well-known photographer Henry Noss of New Brighton, it is believed Mr. Noss may have been the picture taker.(3)

Initial credit for the success of this discovery is being given to present professional photographers Harry K. Frye of Beaver and Terry Clark of Ambridge for their superb darkroom skills of creating an enlarged paper print from the ambrotype by projecting through the glass image with a large antique enlarger so that identities could be more easily accomplished.

Long-term studies with the help of many local historians have determined that this remarkable boat photo had been exposed in mid May 1861 on the west side of a very isolated bend of the Beaver River one mile north of the present roundhouse building at approximately 27th St., Beaver Falls. This would make the boat-scene site over the hill from 42nd St. This river's edge area is still isolated today.

During the winter months without the obstructing foliage, modern photos were taken at the site which resulted in an unbelievable closeness in the three dimensional background of today as compared to the ambrotype of one hundred forty-two years ago.(4) The lead evidence to seeking this site were the published articles in early issues of The Geneva Alumnus newsletter by the late Geneva College Historians Clarence McCartney and J. Vale Downie, and in older issues of this journal, the Milestones.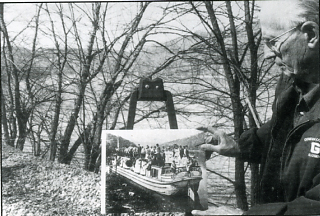 The author comparing the background
of the 1861 photo with the same background today.


Doctors McCartney and Downie had described Captain Boyle's canal boat as being still docked near the bend in the river north of the college.(5) The boat was owned by John Boyle of New Brighton who became postmaster of that town after the canals and boats were replaced by railroads in the 1850's.(12)

The history of the Beaver Canal System of the 1830s to 1850s is well known with its many locks between Rochester and New Castle, Pennsylvania. Famous persons had traveled in this slow-moving transportation. They included Charles Dickens, James Fenimore Cooper, Zachary Taylor and James Garfield as a young boat tender. These people, with little doubt, stayed overnight at Metheny's Tavern (on the river north of Beaver Falls) or at least stopped long enough for a cooked meal before continuing their journey in the canal systems.(5)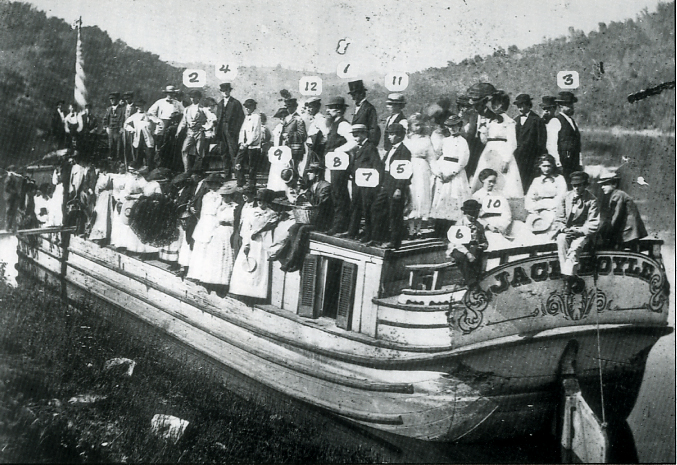 This view of the JACK BOYLE is numbered and compatible with the article, identifying people on the boat.


Using a number system, those identified in the boat picture with some related information are as follows:
No. 1. President Abraham Lincoln

Lincoln began growing his beard in November, 1860, with it developed in May 1861 as in the boat picture. It is compared with the published Mathew Brady portraits of the President taken between February 1861 and 1862 of both studio and field picture takings.
No. 2. Colonel Elmer Ellsworth

Assigned temporarily as a bodyguard to Lincoln for the inaugural trip and for this quick visit to Beaver County and return. With the threat of war, this young and devoted friend of the Lincolns formed a Zouave military outfit of New York Firemen to help defend Washington. He was killed on May 24, 1861, during a march into Alexandria, Virginia, which is believed to be only seven to ten days after this canal boat photo was taken.
No. 3. Ward Hill Lamon

Mr. Lamon was a lawyer and a friend of Abe in Springfield. He was appointed as the President's chief bodyguard and later as Marshall of the District of Columbia. He was sometimes called "Barrel-chest Lamon" for his bigness and strength, plus the fact that he was known to carry many concealed weapons.
No. 4. David Metheny, MD (1836 - 1897)

Dr. Metheny was of the Metheny family of the Beaver Falls area; his grandparents (Moses and Hannah Metheny) helped raise him and were the operators of Metheny's Tavern and Hotel at the junction of the Beaver River and the Connoquenessing Creek in northern Beaver County. Dr. Metheny finished medical school in the spring of 1861, had a brief practice in Pittsburgh, was a doctor in the US Army for a short duration and then was appointed by President Lincoln as Medical Consul to Syria in 1864.(5)
The Metheny's in Beaver Falls were related to the Metheny's in Springfield where Lincoln's office was above Metheny's General Store. James M. Metheny was Abe's best man at the Abe and Mary wedding in 1842. N. W. Metheny issued their marriage license as being a clerk of courts of Sangamon County, Illinois.(5)
No. 5. Willie (William Wallace) Lincoln (1850-1862)

Willie was eleven years old in this photo of May 1861. He died the following February, 1862, reported as being caused by typhoid fever. A son of the Lincolns, he was named after Mary Todd Lincoln's brother-in-law William Wallace.
No. 6. Tad (Thomas) Lincoln (1853-1871)

Tad was the youngest of the Lincoln sons. He died at age 18 in 1871. Tad was age 8 in this photo of 1861.
No. 7. Albert Edwards

Young Albert was a special friend of Willie Lincoln; notice they are standing side-by-side in the boat scene. Albert's parents were Ninian and Elizabeth Todd Edwards.
No. 8. Lockwood Todd

Lockwood was either an older nephew or a cousin to Mary Todd Lincoln. He was popular with the Lincoln boys but not with the President because of their differences on the subject of slavery and due to Lockwood's outspoken and embarrassing remarks on political issues.
No. 9. Francis Todd Wallace

Mrs. Wallace was a half-sister to Mary Todd Lincoln. Her husband was Dr. William Wallace of Springfield.
No. 1O. Margaret Todd Kellogg

Mrs. Charles Kellogg was a half-sister to Mary Todd Lincoln.
No. 11. Unidentified

This young man resembles Levin Handy who was a nephew to famous photographer Mathew Brady of Washington and New York. Levin was an apprentice photographer at this time and eventually took over Brady's Studio after the war when Mathew's eyesight worsened. Levin was a Washington acquaintance of the Lincoln boys.
No. 12. John Hay (1838-1905)

John Milton Hay was the President's second secretary. Even with the serious defect in the ambrotype negative in front of his face, John's identification has been firmly established as being the secretary that Lincoln selected for this slip away trip.

Hay later graduated from Brown University and their library is named after him. He became ambassador to Great Britain and Assistant Secretary of State during his later career.

Note: The other Lincoln secretaries were John Nicolay and William Stoddard. At the time of this brief trip, Nicolay was on special assignment to Monroe Fortress, and Stoddard was on temporary military duty in Washington.
The identifications of the above eleven people were done with painstaking efforts and considering their true appearances at the month and year of the picture taking. This writer has thirty-five years' experience of collecting photographica and twenty years specializing in identifying famous people in early images. This experience was applied when comparing the photograph with published control portraits in numerous books of better reference libraries with my favorite research places being the McCartney Library at Geneva College, the Davis Library at the University of North Carolina, the USF Library at the University of South Florida, the Research Center in the Beaver Falls Carnegie Library building, plus my own library of books.(2)

With all of the above relating mostly to the what, where and who, I must now address the how and why.

As was briefly mentioned in a beginning paragraph, our country in 1861 was in a turmoil over the different views of slavery. Compromises between the Abolitionists and Pro-slavery politicians were not fulfilling. Hence, on April 14, 1861, the southern artillery fired onto Ft. Sumter. Shortly after, a siege of Washington began and southern sympathizers in Maryland sabotaged the railroads and the telegraph lines north of the Capital. Lincoln called hastily for troops from northern states to defend Washington and to restore the railroads and the telegraph system.(6)

The troops arrived sparingly by outfits and in sufficient force by May 10. Washington was again considered safe, at least temporarily. During the siege, everyone at the White House had cabin fever: The President had been making frequent short-distance security trips to the War Department building where the main telegraph station was set up (with the help of young Andrew Carnegie from Pittsburgh) and where Secretaries of War Simon Cameron and Edwin Stanton plus Secretary of State William Seward had busy offices.(7) Mary Lincoln had delayed her planned trip to New York to select new furnishings for the White House, and many Todd relatives had been stranded in Washington with no safe way to return to Springfield.

During the brief calm in Washington (from about May 10 to approximately May 20, 1861) the President apparently made a hasty decision (after presumingly conferring with his cabinet secretaries at the War Department) to accompany the previously marooned Todd relatives part way to Springfield with the turn around point for him, his sons, his secretary and his bodyguards being the Metheny Hotel in Beaver County, Western Pennsylvania. By this period in time, the hotel was also now used as a railroad station. After a brief visit in the northern Beaver Falls area, the Todds are believed to have continued on for the balance of their journey; and the smaller Lincoln Party was whisked back to Washington, actually to Camp Lincoln which was reasonably close to the War Department and the White House.

Based on (1) circumstantial remarks made in early books including those by authors Ruth Painter Randall and Gore Vidal that "The LincoIns just disappeared in mid May," (2) the very noticeable gap of no letters written by President Lincoln and by Secretary Hay between May 11 and 19, 1861, and (3) Secretary Stoddard writes later in his autobiography that when he visited the White House while on guard duty during this same period, "the Lincoln rooms are empty." (8)

It is stated with confidence that the Lincoln Party left Camp Lincoln in Washington on May 12 or 13 and returned to Camp Lincoln on May 19 or 20. The return date was critical because of the planned march into Alexandria by Ellsworth's Zouave troops. That march of troops began from Camp Lincoln on March 23 with Ellsworth getting killed on March 24 during an episode of the young colonel removing a Confederate flag from a roof top.

Noticeably, Mrs. Lincoln is not in the boat picture. It is documented that she left Washington on about May 10 with a smalI party to shop in New York and to visit her oldest son, Robert, at Harvard. She, too, is believed to have returned on May 19 or 20. There are reports that the President and wife were in flag dedication ceremonies in Washington on May 21 and 22.(9,10)

The route used by the train to Beaver County could have been the B&O Railroad from Baltimore to Wheeling then to Beaver Falls, or by some route to Harrisburg then to Beaver County. One can assume the means of last- minute communicating for this quick trip was through the restored telegraph system and possibly using coded messages. According to the very good book, Lincoln in the Telegraph Office by James A. Fawley and David Homer Bates, Andrew Carnegie helped create a code system used at that time, and Lincoln had spent hours in the telegraph office in the War Department.(7)

I would like to thank many people for their help on this complex project. Rex Downie stands high among those who encouraged me along the way. Rex, a retired attorney, enjoys doing historical writing and helping people with research projects. Other local people and sources of information not already mentioned in this article are: Retired Professor David Carson of Geneva College; the staff of McCartney Library at Geneva; Dr. William Irion and Ms. Betty Conner at the History Center, Beaver Falls; Mr. Samuel Allen of the Carnegie Library, Beaver Falls; Dr. Harry Farra of Geneva, who has strong interest in local history; Mrs. Theodora Downie Koble, whose grandfather, Dr. David Metheny is in the canal boat photograph; Ms. Heather Metheny, who is doing research on the Metheny family; Mr. Kenneth Britten of the Beaver Falls Historical Society; the Library personnel at the History Center in Pittsburgh; and the editors of the Milestones, Denver Walton and Charles Townsend.

Did President Lincoln use good judgment in leaving Washington during the brief relaxation at the capital in mid May 1861 for a trip that may not have been essential considering the circumstances of the war? I am one who says he should not have accompanied the stranded relatives and friends part way to their hometown destinations even with the temporary calm. Perhaps he would agree with me. And perhaps political considerations was the reason it was kept a secret. There apparently is no government document or private letter written specifically on the subject, just the outstanding photograph with identified people and with the times and locations being pinpointed, plus the many strong circumstantial and documented evidences regarding the gap of time and brief calm at Washington.(1,2,8,9)

What about the unidentified persons in the canal boat picture? Can any of them be local residents other than Dr. Metheny? One speculations is: the young doctor may have invited some church members from a local parish which could have been a Covenanter church. As noticeable, many of the ladies with sun bonnets cannot be identified due to the dark shadows on their faces. Perhaps some of the unidentified men to date were specialists (either local or from Washington) who provided expertise on telegraph communications and on railroad transportation priorities and securities as well as for some local horsedrawn carriages. Or, Lincoln may have crashed a Sunday school picnic.

It would be appreciated if readers of this journal would contact the Director, Brenda Applegate, of the Landmarks Foundation at 724-775-1848 if you have strong evidences of further identifications of people in the boat picture or would just want to discuss the story in general.

The cane picnic baskets used by a few in the boat picture raises an interesting question. If the snacks in the baskets came from a tavern or hotel, were these baskets packed at the Metheny Hotel where it is believed the Lincoln Party stayed overnight, or did the food source come from a closer - buggy ride - hotel and stagecoach stop, the Partington House (then a tavern and small hotel), at what is now College Avenue at the northern end of Geneva's campus? This red-brick building is still standing and is presently being used by the college for classroom activity. The Partington Tavern was owned then by William Hunter Partington.(11)

Application has been made for a copyright of this article and all of the photograph illustrations in the article of the Lincoln Party on the JACK BOYLE canal boat. Therefore, permission must be granted from the owner (through the Foundation) of the canal boat photo, who is also the writer of this article, before the article and said photos can be reproduced or republished.
Pictures of Significant Boat Passengers
These published control portraits are keyed to the number system used on the boat photographs and their descriptions.
Footnotes
1. The original quarter-plate size ambrotype photograph illustrated as an ambrotype and as print enlargements. It is considered a historically important piece of evidence of this discovery which led to this much researched story and nonfictional article.
2. "Lincoln in Photography, An Album of Every Known Pose" by Hamilton and Ostendorf, 1964, pages 76 - 85, 93 - 101, 105 - 07, 117, ' 150, 321 - 26, McCartney Library. "Dictionary of American Portraits," Cirker, Dover Publications, N.Y, 1967, pages 193, 285, 366, 382 - 84, author's library. "The Image of War 1861 - 65, Shadows of the Storm", Vol 1, P 171, Nat'l. Hist. Soc., authors library. "Lincoln's Sons" by Ruth Painter Randall, Pub: Little & Brown, Boston, 1955, pages 145 - 46, McCartney Library. "Lincoln, An Illustrated Biography" by Kunhardt, foreward by Donald, pages 7, 56, 147, 150-51, 163, 175-79, 224, 251, 1992, author's library. "Lincoln, A Picture Story of His Life", by Stefan Lorrant, Pub: W. W. Norton; N.Y, pages 138,147-49,170-71, 1952, author's library. "Mr. Lincoln's Camera Man, Mathew Brady", by Roy Meredith, Pub: Dover, N.Y, 1974, Illustrations 38, 74, author's library. "Mathew Brady's Portrait of an Era", by Roy Meredith, Pub: W. W. Norton, 1982, pages 99, 101, author's library. "Mathew Brady, Historian With a Camera" by James Horan, Pub: Bonanza, N.Y, illustration no's 146, 156, 421, author's library. "Geneva Alumnus" magazines, 1946, and the "Personal Collections of Dr. Metheny Portraits", owned by Dr. David Carson and Mrs. Theodora Downie Koble.
3. "Noss Glass Negative of Photography Wagon," author's collection and editor's files.
4. Modern "site-photos" in author's and editor's files.
5. "Canal Boat" and "Metheny Family" files, History Center, Beaver Falls Carnegie Library building. "Geneva Alumnus" issues of 1946. Back issues of the "Milestones." Copies of selected pieces from these sources in author's library and in the Foundation files.
6. "The American Conflict, The Great Rebellion of the United States", by Horace Greeley, Vol. 1, 1864, Pub: Case, N.Y, Chicago, Chapter pages beginning 198, 351, 367, 388, 428, 449, author's library. "Lincoln, An Illustrated Biography," by Kunhardt, Pub: Alfred Knopf, 1997, pages 148-51, author's library. "The Prairie Years and the War Years," by Carl Sandburg, Pub: Reader's Digest, 1970, pages 196-211. "Abraham Lincoln, A Biography" by Benjamin Thomas, Pub: Alfred Kopf, N.Y, pages 266-270, author's library. "The Civil War, An Illustrated History" by Geoffry Ward, 1990, pages 34-49, author's library.
7. "Lincoln in the Telegraph Office," by James A. Rawley and David Homer Bates, 1995, Pub: Univ. of Neb. Press, pages 15-55, USF Library, Univ. of S. FLA.
8. "Colonel Elmer Ellsworth, A Biography of Lincoln's Friend and First Hero of the Civil War," by Ruth Painter Randall, 1960, Pub: Little, Brown & Co., Boston, pages 244-48, USF Library, Univ. S. FLA. "Gore Vidal, Lincoln," Pub: Random House, page 170. "Letters of John Hay and Extracts from Diary," Vol. 1, Pub: Gordian Press, N.Y, 1969, pages 33-34, Davis Library, Univ. of N. Carolina. "The Writings of Abraham Lincoln," by Arthur Lapsley, Theodore Roosevelt, Carl Schurz, Joseph Choate, Noah Brooks, Pub: G.P. Putnam's Sons, N.Y, London, 1923, pages 292-93, 297-301, St. Leo College Library, St. Leo, FLA. "Seward at Washington and Secretary of State, A Memoir, 1846-61," by Frederick W. Seward, Pub: Derby and Miller, N.Y, 1891, pages 564-65, Davis Library, Univ. of N. Carolina. "Mary Todd Lincoln, Her Life and Letters," by Turner, Pub: Knopf, 1972, pages 85-87, Craven - PamLico - Carteret Regional Library, Carteret Co, N. Carolina. "With Malice Toward None, The Life of Abraham Lincoln," by Stephen Oates, 1977, Pub: Harper & Row, N.Y, pages 232-35, Carnegie Free Library, Beaver Falls. "Abraham Lincoln, A Biography," by Benjamin Thomas, Pub: Knopf, N.Y, pages 266-270, USF Library, Univ. of S. FLA. "The Atlanta Century," newspapers issued on Sundays, May 12 and 19, 1861, author's library.
9. The "Atlanta Century" newspaper issued on Sunday, May 12, 1861, author's library. "Lincoln Day by Day," Vol 111, 1861-65 by Percy Powell, Pub: Lincoln Sesquicentennial Commission, 1960, page 41, Davis Library, Univ. of N. Carolina. "Mary Todd Lincoln, Her Life & Letters," by Turner, page 87, Pub: Knopf, 1972, Carteret Regional Library, Carteret Co., N. Carolina.
10. "Lincoln Day by Day," Vol 111, 1861-65 by Percy Powell, Pub: Lincoln Sesquicentennial Commission, 1960, page 43, Davis Library, Univ. of N. Carolina.
11. "History of Beaver County, The Heritage Collection," 1888, page 704, Pub: A. Warner, Phila, Chicago., Monaca Pa. Public Library and The History Center at Carnegie Library, Beaver Falls.
12. "History of Beaver County," Vol. 11, page 721, by Rev. Joseph Bausman, Monaca Public Library and the History Center, Beaver Falls.