Click Here to Return to Milestones
County "Ghost Community" Slowly Resurrects (CCC)
Milestones Vol 18 No. 3
...and no one knows how much it might cost to restore 80 historic cabins, handcrafted of rare wormy chestnut by the federally funded crews a half-century ago and now closed because of deterioration.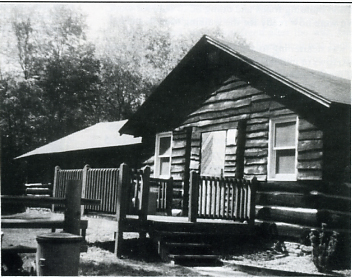 Main Lodge at Camp No. 1
They are made of rough boards and whole logs in a style seen nowhere else in Pennsylvania. State officials haven't decided whether to demolish the cabins or repair some of them.
RACCOON CREEK IS TYPICAL STATE PARK:
-RALPH HAURWITZ IN THE PITTSBURGH PRESS JUNE 12, 1988.
When a press release ran in THE NEWS on May 27, 1993, announcing a Civilian Conservation Corps camp tour on May 29 and 30 at Raccoon Creek State Park, it appeared this would be the ideal time to find out the fate of the buildings mentioned in the story above.
Arriving at the parking lot of the main park office, evidence of the presence of the CCC Alumni become apparent immediately. Bumper stickers proclaiming "BRING BACK THE CCC", a small group of men with green and white hats- some with matching T-shirts talked and laughed with great enthusiasm. A cameraman from a Pittsburgh television station relaxed against his van.
We found out that the park superintendent mentioned in the PRESS article, Larry Hoffman, was still at the helm and that the overall situation was improving but still had a long way to go.
To reach our next destination, the main lodge at organized group camp No. 1, we traveled by convoy in our cars by a round-about route through Frankfort Springs. A new bridge being built on the direct route was not yet completed.
The lodge was a pleasant surprise. Beautiful hardwood floors gleamed in the main room. It would easily hold 100 people. a large fireplace made of stone dominated the far side. It was actually a two sided fireplace, the other side being in the kitchen, We viewed some film made in the 1930's of the CCC in action building roads and doing other outdoor work. We were now ready for the walking tour.
It was heartening to see what was happening to the two rows of individual cabins that were on either side of the designated road as we walked along.
Roofs were being covered with new shingles, window panes replaced and painted and electrical wiring being updated. We entered some cabins that were completed. The interiors were painted and refurbished and looked quite comfortable. Next a fellow was working on his roof. Farther along a woman and children enjoyed the balmy weather as a man worked on a window. The cabins were being saved and this was the answer as to how it was being done. Families or individuals would 'adopt' a cabin and work on it at their leisure. The Park was furnishing the material. There was no timetable or schedule and of course no compensation.
Many persons have all the tools needed for a project such as this and were looking for a reason to exercise their skills. But the actual reasons to 'take on' a challenge such as this are varied and many. The one common benefit they will all receive is at least one free week's stay at their cabin each summer. Whether or not this is adequate reward could be debated. But for anyone who has inherited the 'spirit of adventure' from the first frontiersman who traversed these hills to the CCC's who conquered them more recently, it is surely a never to be forgotten experience.