Click Here to Return to Milestones
Trolleys-Pictorial
Milestones Vol 3 No. 2
Trolleys ran in Beaver County until 1937 when the lingering depression and the automobile combined to remove them from the streets of Beaver County.

The Beaver Valley Traction Company was formed from several pioneer lines in Rochester, New Brighton, Beaver Falls, Beaver and Ambridge. Service extended from Vanport to just outside of Sewickley and from Monaca to Morado. These views show two early cars on Third Street, Beaver. The open air car was popular in the summertime, especially on excursions to Junction Park, BVT's amusement park in Rochester Township.

Interurban lines connected local lines with other cities. The Harmony line (Pittsburgh, Harmony, Butler, and New Castle) connected Morado (Beaver Falls) with Ellwood City via the Koppel bridge. From Ellwood, the line followed the Connoquenessing Creek southwestwardky to Zelienople and ultimately to Pittsburgh. The "yellow car" of the Steubenville, East Liverpool, and Beaver Valley line followed Route 68 from the state line to Vanport, then used BVT tracks to the Beaver RR station. In like manner, BVT motormen brought Harmony cars from Morado to the lower end of Beaver Falls, where the Harmony Freight station was.

The Woodlawn and Southern Street Railway was an "isolate" in that it served the town of Woodlawn (Aliquippa) but connnected with no other lines.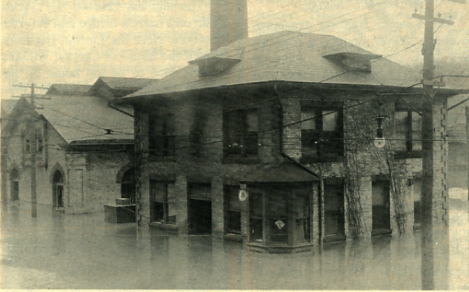 Flooded Junction Trolley Terminal--Milestones Vol. 23, No. 1.