Click Here to Return to Milestones
Last Trolley Car
Milestones Vol 24. No.2
The last electric trolley car passed into history as far as Beaver Valley was concerned on August lO, 1937, and Car 611 of the Beaver Valley Traction Company fell the honor of making the last trip from Junction Park car barn to Morado and return.
Starting at 4:50 P.M. with veteran operators Charles Hayward, Robert McClymonds, John Myers and William Myers in charge, the round trip made in a little over an hour amid gala holiday scenes. Aboard the car were some perSons who enjoyed the experience of having made the initial trip on an electric trolley with their installation in 1901.
John A. Elliott of Beaver Falls, the only surviving member then of the original board of incorporators of the traction lines was on the first car and the last.
Some 30 to 40 persons started from the Junction and at Ninth Street, New Brighton, a stop was made to pick up members of council representatives of the police department and firemen and others. Similar stops were made at the P & L E Station and 11th Streets in Beaver Falls. Among those on the car was Fred Noss, New Brighton who as a boy rode the first horse-drawn street car July 4, 1885 between New Brighton and Beaver Falls.
The youngest passengers were two children Albert McMinn Jr. and Sara Jane McDanel.
Souvenir hunters just about dismantled the interior of the car. Hundreds of persons lined the streets to see the car pass, and returning to the Junction it was followed by a parade of cars, boys on bicycles, etc.
The new buses which took up the transportation were at spotted locations and were quickly filled with passengers eager to be the first to ride them. The old Car #611 became a summer home and was located near Brady's Run Park.
From the files of the Historical Center Beaver Falls, PA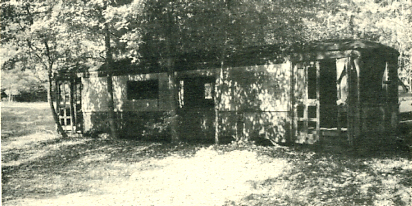 This old trolley was discovered in Brady's Run Valley. It may have been the last trolley to have operated for the Beaver Valley Traction Company through Beaver Falls and New Brighton.