Click Here to Return to Milestones
Historically Yours-Richmond Little Red Schoolhouse
Milestones Vol 26. No. 1
(Beaver County Times, 1974)
By Gladys L. Hoover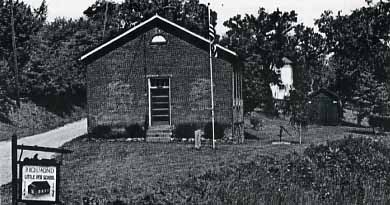 More information about The Richmond Little Red School House has come to Margaret Ross, coordinator of Beaver County Historical Research Department, from John A. Graham, present president of the organization which restored and maintains it.
Brighton Township School, known as District No. 2, or Richmond School, was a part of the original Federal Land Grant of John Strawbridge in July 1786. (Note two facts: This was after Virginia and Pennsylvania had settled their conflicting claims to what is now Beaver County and that the land grant was Federal. Much of this land was allotted to Revolutionary War soldiers in payment for service.)
Mr. Graham states that this was a portion of Lot Number 38. "John Strawbridge," according to Mr. Graham, "deeded it to John Nible and his wife Rebecca in the year 1818 and recorded it March 1, 1820." The record is found in Deed Book Volume F6, pages 171-172.
John Nibble and his wife Rebecca deeded to Brighton Township School Directors in the year 1844,63 acres in consideration of $850. School directors at this time were John Sutherland, John Shane Washington, Phillis William Hunter, Peter Resinger and Robert Beacom.
Brighton Township School Directors deeded the Richmond School property to Daniel P. Wilson and his wife Delores for the consideration of $850 in 1953. On July 11, 1969, the Brighton Township Supervisors purchased the property for back taxes which amounted to $442.30. The deed was recorded August 11, 1969. The purpose of this purchase was to have a group restore the school as an Historical site.
The Restoration project was extensive with much of the materials and labor being donated to a great degree by members of Richmond Little Red School House. Among the contributions were a pot-bellied stove and desks, some of which were original equipment.
The school is open for visitation during the months of June, July and August. Admission is free. We are always grateful for new members, and would urge former students to join the ranks.