Click Here to Return to Milestones
Greenwood Institute of New Brighton
Milestones Vol 30. No. 4
Abstracted from F. S. Reader's History of the Schools of New Brighton, 1910
Greenwood Institute was started May 1, 1853, with Myra H. Townsend as principal. She was assisted by her sisters Tazetta and Celicia. Later other teachers were added, including Ellen and Henrietta Angier (sisters), and Eunice H. Critchlow. Henrietta Angier taught music and French.

Ellen Angier was a very good friend of Milo and Elizabeth Walker Townsend. She wrote a number of letters to them over the years. In one of these letters she alludes to her time as a teacher at Greenwood Institute.

Most of the information below is from History of the Schools of New Brighton, Pennsylvania by F. S. Reader, published in 1910 by F. S. Reader & Son, New Brighton, Pa.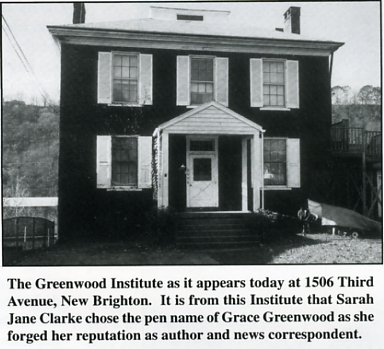 The school was housed in a square red brick building at what may now be 1506 Third Avenue, New Brighton, Pennsylvania. The classes at first met in the basement with recitation rooms on the first floor, where there were also pianos for practice in the music department.

In an advertisement in the New Brighton Record for June 24, 1854, it was stated that the school year was divided into two sessions of five months each. The summer session began the first of May; the winter session, the first of November. Tuition and boarding charges per session were $65. Music with use of instrument was $20. The drawing and painting fee was $10.. Latin and French were $10 each. Vocal music in class was $2.

The location of the school was beautiful, a fine old homestead surrounded with trees, shrubbery, and flowers. The editor of the Record wrote, "This seminary was opened on the first of May, 1853, under the management of three sisters, daughters of A. W. Townsend, deceased. Miss Myra H. Townsend with her assistants, are well qualified, both by education and experience in the practical duties of teaching for the responsible position they occupy.... They accommodate but a limited number of pupils, only about fifteen are furnished with boarding and some twenty-five or thirty day scholars are received; from thirty to forty-five have been in constant attendance since the establishment of the Seminary.

Reader writes, "The mode of instruction and the outdoor exercises are admirably adapted to the healthy development of the physical system, and invigoration of the mental faculties, especially the equestrian exercises practiced by the young ladies in which graceful and wholesome accomplishment they are taught, when desired by their parents or guardians

"We have often paused in our occasional walk to admire the lovely picture of rural beauty presented by the trees, the vines, the variegated flowers and the shrubbery that ornament the pleasant grounds about the Seminary - embowered amid the green trees and circling vines, and so appropriately called Greenwood. And longer have we paused to note the enjoyment of the fair young pupils as they sat in dusters beneath the shadow of those friendly trees and conned their lessons o'er; or frolicked amid the gay scene in their wild and careless glee.
"For it stirs the blood of an old man's heart,
And makes his pulses fly,
To catch the thrill of a happy voice,
And the light of a pleasant eye.
"I am growing old, it is very true,
Growing old, and I bide my time,
But my heart will leap at a scene like this,
And I half renew my prime."
"In addition to the beauties and other conveniences of the place, it is stated that there was a large stone in front of the property which some of the young ladies of the Institute, and some of the young gentlemen of Kenwood School used as a post office where they left notes to be exchanged. Though the town was small and not much to interest youth, these girls seemed to have a good time and did not lack for entertainment. One of the bright spots in their school life was a visit from Bayard Taylor. He lectured in the Institute building up street, and being a cousin of the Townsend girls, he was entertained by them when he visited the school."
During the progress of the school, J. P. Reed, one of our earliest public school teachers, taught a writing school at night.

Among the day scholars, the following ladies were remembered: Ellen Chamberlain, Etta and F. Champlin, Isabel Wilde, Sarah Erwin, Helen Warren, Juliette Bradford, Jane Kelley, Jennie Irwin, Myrtilla Read, Merran F. Darling, Emma P. Read, Sarah J. Covert, Sarah E. Hooper, Elizabeth Bedison, Mary E. Pugh, Henrietta A. Miner, Lucinda and Mary Fehl, Fannie Irwin, Jane and Maggie Gilliland, Mary McCready, Ellen Irish, Lydia M. Townsend, Sabina Townsend.

Among the boarding scholars were Anna Dickinson of nation wide fame, Emma Foster sister of the popular composer Stephen C. Foster, Helen Eichbaum, Tillie and Annie Speer, Annie B. Graff, Lizzie Robison, Lizzie Wade, Nannie Reno, Laura V. Irwin, Tillie and Annie Ferguson, Jennie Jordan, Emma Bocock, Harriet and Anna Shunk, Margaret J. Perry, Mary G. Kerr, Susan Scott, Lizzie Ahl, Kate Noble, Sarah Gillespie, Sophia Cass, Ada Milert, Mary Harry, Maria Dunn, Sadie Dickson, and Kate Whittaker.

One more famous pupil was Sarah Jane Clarke, better known later as the famous author and news correspondent, Grace Greenwood. Legend has it that she took her pen name from Greenwood Institute.