Click Here to Return to Milestones
Beaver County Railroad Stations
Milestones Vol 3 No. 4
Click Here to Go to Page 2
Left: Greersburgh, Darlington is oldest standing building used as a railroad station in the United States. It served the Pittsburgh, Lisbon and Western, Right: The Pittsburgh and Lake Erie Railroad came to he village of Logstown (Woodlawn) in 1878.


Left: Monaca's first P&LE Station ws on Sixth Street. Right: Rochester's Pennsylvania Railroad Depot.


Left: Ambridge's Pennsylvania Railroad Station. Right: Baden's small station on the Pennsylvania RR.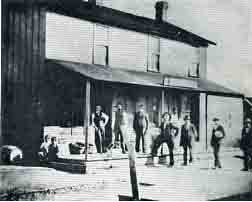 Bridgewater Station.