Click Here to Return to Milestones
Beaver County's Grist Mills: Pictorial
Milestones Vol 2 No. 4
White's Mill, built in 1789 or earlier at Murdocksville, is believed to be the first mill in what is now Beaver County, and thus the county's earliest industry. There is no question that grist mills were vitally important to the agricultural community that was Beaver County in the first hundred years after settlement. Pictured are a few of the many water-powered mills that once existed on local streams.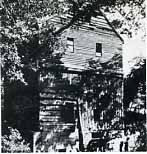 White's Mill, Murdocksville


Left: Mill on Snake Run, New Sewickley Township. Torrence Mill on Traverse Creek, Hanover Township.


Left: Caldwell Mill on Mill Creek, Hookstown. Right: Unidentified Southside Mill.