Click Here to Return to Milestones
The David Littell House
Milestones Vol 25. No. 2
By Sandy Giordano Valley Tribune - December 27, 1986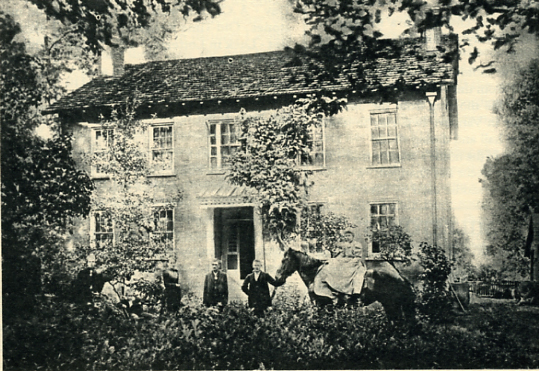 The David Littell House on Route 18 in Hanover Twp. has been named to the National Register of Historic Places.
The house was built in 1851 of local brick and exhibits the Greek Revival influence.
Florence Gray, a descendant of the late Cyrus Littell, and her husband live in the home built for 10. It's now a working farm where they have 13 or 14 beef cattle.
David Littell was Mrs. Gray's greatgreat-grandfather and the home contains much of the same furniture it did during the mid-19th century.
David Littell, for whom the house is named, operated a tanning business on the site from 1819-1860. Deer, calf, dog and hog skins were processed.
According to business cards and receipts found, some of the leather went to dealers in Pittsburgh. By 1850, Littell was one of 16 manufacturers and one of two tanners in Hanover Twp.
The Littell Tannery was a one-man, one-horse operation that processed 400 sides of leather from 20 hides and 100 skins in a year.
A decline of independent business in the township led to the halt of leather manufacturing. David Littell died in 1870, 10 years after the tannery ceased operation at the Hanover Twp. site.
Dr. Larry E. Tise of the Pennsylvania Historic Preservation Society nominated the house for the registry.
It's a two-story brick farmhouse with a slate shingled roof sitting on 23.5 acres on Route 18. It's built on a stone foundation and has a cellar, an attic, a five-bay center hail plan, double-hung 6 x 6 windows, interior end chimneys and fireplaces.
The home was completed in 1851 by Hayward and Cain and contains stone window sills and lintels and a front door with transom and sidelights.
Remains of the Littell tannery and several small outbuildings still exist on the property.
The country kitchen has a butter mold, wooden potato mashers, a tin match saver for spent matches and one for unused ones as well as a copper oil can.
An armoire can also be found in the kitchen for linens, and pots and pans.
A spinning wheel used by the Littell family stands on a landing leading to the second floor.
Walnut chairs and a mahogany Sheraton-style table are in the dining room.
The molding in the living room came from the old Beaver Post Office while the molding from the old Van Home in Vanport Twp. can be found in the hall and dining room.
Little of the home's original mid-19th century decor has changed.
A side saddle used by Mrs. Gray's great-grandmother in 1850 is on an upstairs bannister. A "birthing room" where all the Littell children were born and an 1850 pendulum clock in the living room are just a few of the secrets of the Littell house.
There's an American Revolutionary War field bed, a Sheraton with a crocheted net canopy and a woven reversible bedspread handmade in 1842 in the bedrooms along with a Jenny Lind bed and a Victorian maple dresser.
A Victorian eight-day clock and a Victorian rocker are on the second floor. A master bedroom features a Victorian brass bed and heavy damask drapes.
The David Littell Home is one of 46,000 local, state and federal properties on the register.
Editor's Note: A Beaver County historical marker was placed here in 1998. Mrs. Florence Gray passed away in 1999.