Click Here to Return to Milestones
Theaters in Beaver County--Page 1
Milestones Vol 4 No. 1
Click Here to Go To Page 2
Movie theaters have played an important role in entertaining Beaver County residents for over a centuary. Since the ays when the nickleodeons first appeared, there have been perhaps 80 to 100 movie houses in the county. Of some two dozen theaters in Beaver county during the movies' heyday in the Thirities and forties, only two remain as of 2010. on these pages we show a few of these centers of enjoyment.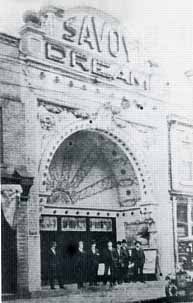 The Savoy was Beaver Falls' finest as it appears here in 1913. It was demolished in 1930, then the State Theater was built on the same site,


Left: The first nicklelodeon in the Ambridge area occupied this small building. Right: The Freedom Theater once occupied the hotel building. Oldtimers recall two other theaters in town, the Craig and the Volhart.


Left: Aliquippa's early Rialto Theater was a fish market for many years. In the early 1970s it operated briefly as the Red Fox theater.