Click Here to Return to Milestones
Woodlawn: The Forgotten Village
Milestones Vol 24. No. 4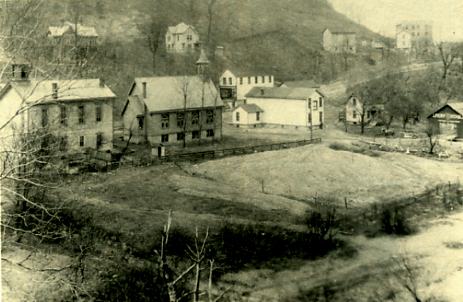 A scene from early Woodlawn.
Often the origin of place-names is forgotten when a town loses its identity in a merger. Searching for a name for a post office to be located in a wooded bill and valley terrain, Mattie (Sharon) McDonald, inspired by its natural beauty, offered the name Woodlawn. Thus, on November 13, 1877, Woodlawn had its first post office with C. I. McDonald, husband of Mattie, as the first postmaster. He was a lineal descendant of John McDonald.
C. I. McDonald was born November 26, 1846 at Logstown Bottom on the place where Reverend Andrew McDonald settled in 1810. A contractor by occupation, Mr. McDonald operated a sawmill and supplied lumber to the area. In the early 1880s, the use of natural gas brought a degree of prosperity to the Woodlawn-New Sheffield area. From the wells on his land, Mr. McDonald supplied many families with this natural product. His work as a contractor engaged him in several major constructions of railroads, bridges, and dams. He helped to construct the P&LE Railroad, bridges across the Allegheny and Ohio Rivers, the lock and dam No. 7 on the Monongahela River, and enlarged the tunnel for the P.C.&Y. Railroad. In 1884 he began dam No. 6 on the Great Kanawha River for the U.S. government, and completed it in October, 1886.
The McDonalds were prominent leaders in the organization of the Woodlawn Academy and the Presbyterian Church of Woodlawn. Among the 12 incorporators of the Academy, chartered on April 7, 1879, were David
A. McDonald, Mary McDonald, and C. I. McDonald who served as the Secretary. This educational institution, a two-story structure, was erected at a cost of $2500 and served as a meeting place for religious and fraternal organizations. The Reverend P. J. Cummings, pastor of the Mt. Cannel Church, was the first principal of the Woodlawn Academy. Of the 42 charter members of the Presbyterian Church of Woodlawn; officially organized on September 12, 1895, there were eight McDonalds on the charter roll, one more than another early Woodlawn family - the Marattas.
From the Mill Creek Valley Historical Association Newsletter July 1968