Saints Peter and Paul Church
By Pamela Mundo
In 1757, Father Louis Virot, a French Jesuit, established a mission at Beaver, or Sawkunk, as it was called by the Indians. The location of the mission has been established as being west of Dravo Street near the Ohio River. Here Father Virot labored to bring Christianity to the Indians for approximately 2 years. Father Virot's mission was driven off by a Chief of the Wolf Tribe, Chief Pananke. Records show that Father Virot was martyred by the Iroquois near Fort Niagara in 1759.
There is no available documentation of further Catholic history from that point until 1800.
Between 1759 and 1800 the French, Indians and British came and went. Fort McIntosh was established in 1778. Beaver Borough was laid out in 1791 by Daniel Leet, and Beaver County was established in 1800.
By 1800 Catholics began to settle in Beaver. But not until the beginning of construction of the Pittsburgh and Erie Canal, were Catholic services held with any regularity.
Research by our present Pastor, Msgr. Schultz, has indicated that the formation of a parish began around 1830. In 1835, Bishop Kenrich of Philadelphia celebrated Mass at the home Of John C. Murphy in Bridgewater. On the Bishop's second trip in 1837 on the Feast Day of Saints Peter and Paul the first Church of Saints Peter and Paul was dedicated at the corner of Third Street and Fair Avenue. The land for the Church was donated by James Hemphill of Bridgewater.
Our first Church was a small wood frame structure built on a sturdy stone foundation. The lap siding was painted white; the gable roof was topped with a gable roofed steeple. Eleven years later, Father James Reid became the first resident Pastor. Father Reid once requested a 5 cents a week stipend from each parish family for purposes of placing backs on the Church benches. The older parishioners decided this was unnecessary since they felt the Young folks did not need such a luxury item.
The first Church stood for 61 years until burned in 1898. In 1901 the second Church was completed at East End Avenue and Otter Lane. This fine brick structure still stands at the same location. It is currently used for meetings and activities of the parish. It was named Keating Hall after Father Joseph Keating who served the parish between 1931 and 1942.
During World War 11 and because of the coming of the Curtiss-Wright Plant (now the Westinghouse Electric Corporation), the parish members increased rapidly. Soon our parish outgrew Keating Hall. From 1954 to 1972 the basement of the grade school was used as a temporary Church. In 1972 our new Church at Lincoln and Third was dedicated.
Our present Pastor, Msgr. Raymond Schultz, came to Beaver in 1966, and he may be credited for not only initiating the program to build our new Church, but also for preserving Keating Hall. He has indicated to me that much work needs to be done to document the past history of the parish and also to begin to preserve and rehabilitate the Saints Peter and Paul Cemetery in Daugherty Township near Sylvania Hills. This Cemetery was established around 1880. Father Reid, our first Pastor, is buried there.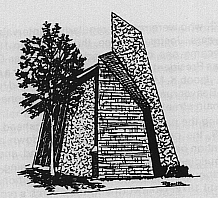 Sts. Peter and Paul Catholic Church
Third Street at Wilson Street