First Christian Church
By Mrs. Roberta Holt
In the Fall of 1897 a young man who had recently moved to Beaver from the Philadelphia area wrote to his Mother, saying "You would approve of my new town. It's Churchy. There are already three established Churches here, and now those Campbellites are meeting in the Park."
He was right except for the name. The new Church which had held its first official meeting in a tent pitched in the corner of the Park across from the Beaver Trust Company on July 28, 1897, was called Christian Church or Disciples of Christ, and was the first truly American Church located here.
Alexander Campbell and his father Thomas had come from Scotland as Presbyterian ministers, but felt a need to establish a less structured Church for the settlers of this new land. Their aim was to duplicate as nearly as possible the original New Testament Church.
Mr. David Llewellyn from Vanport was a member of the Beaver Falls Christian Church and was determined to have an organization of this faith established in Beaver. The tent meetings were so successful that on August 31, 1897 the congregation formally organized, electing a Board of Trustees. I find it interesting that four of the five new Trustees were women.
As winter would soon be coming the new congregation moved from its tent into the Dawson Building across Third Street from the old Post Office. Application to the Common Pleas Court for a charter was presented by Wilson and Holt, Attorneys. The degree was signed by Judge James Sharp Wilson on December 20, 1897.
At this point the women of the Church formed a Ladies' Aid Society and went to work to raise money to build a proper Church. They held dinners, put on plays, made and sold quilts-anything they could think of to make money. By February, 1898 they had earned $1,000 with which the property on the corner of Iroquois Place and Otter Lane where the Church now stands, was purchased.
Evangelistic meetings were held frequently, and the congregation grew rapidly. A wooden tabernacle thirtytwo feet by sixty feet was erected before the end of 1898, on the newly acquired property. It was a plain one-room building, but did contain a baptistry and had electricity and gas for heat and light. The building was completed in two weeks time, speaking well for the enthusiasm and energy of this original congregation.
By 1901 the decision was made to build a permanent Church, and the present building was contracted for at a cost of $21,000. The corner stone was laid Sunday July 27, 1902, and the completed building dedicated on Sunday May 10, 1903. Many of the beautiful stained glass windows in this building were donated as memorials by members and friends. The mortgage on this building was finally satisfied, and on November 26, 1922 the mortgage burning ceremony was held.
By 1968 the need for more room and better equipment was recognized, and a contract was let for an addition to the Church. This was to house class rooms, office, minister's study, library, and youth rooms. The cost was $93,000. This too was paid in full by November, 1975.
This Church differs from many other organized Churches in that we have no creed. "Where the Bible speaks, we speak; where the Bible is silent we are silent." We also baptize by immersion, and serve Communion every Sunday.
Our present minister, the Reverend Clifford Schaub, and his family have been with us a little over a year now. The Reverend Schaub is a former missionary having served in Africa. In the short time they have been here the Schaub's have endeared themselves to their congregation, and we're looking forward to a long and fruitful partnership.
The present members of the First Christian Church of Beaver are pleased that nearly one hundred years ago our forebearers estabilshed it here. Beaver has been good for this Church, and we believe that our Church has been good for Beaver.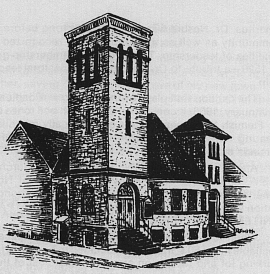 The First Christian Church
Corner of Iroquois Street and Otter Lane