Click Here to Return To Milestones
Pioneer Cemetaries of Beaver County
By W. Sutherland Campbell
Milestones Vol 14 No 1 Spring 1989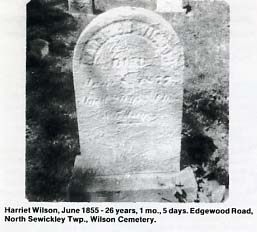 One of Beaver County historians has said that "dead of soul, indeed, is the man who has no love for the history and achievements of those who were his forbears," and we might with equal propriety apply the same characterization to the man who has no interest in the graves of those who were his ancestors- The ancient Romans, without hopes of immortality, deposited the ashes of their dead with the despairing cry, "Farewell! Farewell! eternally Farewell!"; but our own pioneer ancestors, with faith in an ultimate resurrection, laid the bodies of their loved ones in ground which they appropriately called the cemetery, that is, "the sleeping place"; and to further exhibit their belief in immortality these grounds generally surrounded their houses of worship. As Beaver County was settled very largely by peoples of Scotch and Scotch-Irish descent, it is in the yards of their Presbyterian and Associate Presbyterian churches that we find our most ancient 11 sleeping places," more especially on the "South Side" of the county. The first of these was the Old Mill Creek cemetery, located about a mile and a half south of Hookstown, and noted for having more Revolutionary veterans buried beneath its sod than any other in Beaver County.
The Mill Creek Presbyterian Church, with which the cemetery was connected, was the first Presbyterian church to be established in Beaver County, dating its origin from the year 1784. The first written record is that of one of its early members, Joseph McCready, ancestor of the Hice and Moody families of Beaver, riding through the wilderness to the "Lower Meeting House in the Forks" in Fayette County, and on April 20, 1785 petitioning Redstone Presbytery to send ministerial supplies to his church. At that same meeting of Presbytery the Pitt Township church also petitioned for supplies. This Pitt Township church is now known as Dr. Clarence MacCartney's First Presbyterian Church of Pittsburgh. In that early day Mill Creek church was quite as strong as its more noted contemporary. The original building at Mill Creek stood within the confines of the old cemetery, about two-thirds of the way down the right or east side. It was constructed of logs, about 18x2O feet in dimensions, and to preclude entrance by marauding Indians was built without doors or windows; a small, square hole in the roof admitted air and light. Entrance was gained through an underground passage that came up through a trapdoor in the floor. A platform or tower on the roof served as a lookout for an armed rifleman who stood guard throughout every service.
No regular pastor was installed at Mill Creek until the summer of 1799 when the Rev. George W. Scott of New Brunswick, New Jersey accepted the charge. Rev. George W. Scott was the father of Prof. John W. Scott, in later years noted as an educator at Miami University and Oxford Seminary, in Ohio. Prof. John W. Scott was the father of Caroline Lavinia Scott, born at Oxford, Ohio in 1832; became the first wife of President Benjamin Harrison in 1863; and died at the White House in 1892. She had the honor of being the first President-General of the Daughters of the American Revolution.
Neither history nor tradition informs us when burials first began at Mill Creek, nor do the gravestones furnish us with any satisfactory clue, as many of the pioneer graves were either not marked, or their stones have since disintegrated. Among those graves that can be located, certainly the most interesting one is that of Andrew Poe, famous old Indian fighter and Revolutionary veteran, who with his brother Adam, are two of Beaver County's most celebrated bordermen. The Poe brothers came to western Pennsylvania from Maryland, and after a short stay at Pittsburgh, purchased a farm in Smith Township, Washington County, a few miles from Burgettstown. In the fall of 1781, while residents of Washington County, the Poe brothers had their memorable fight with the Wyandott Indian chief Big Foot and his band at the mouth of Tomlinson's Run in West Virginia, the story of which is one of the classics of frontier lore. Sometime during the years 1784-'86 the two Poes moved to Beaver County, and obtained grants of land in the vicinity of Hookstown. Andrew Poe was a Lieutenant of Yohogania County Militia during the Revolution, while Adam was an Indian scout, his patrol extending along the ridge from Georgetown to Frankfort Springs. This patrol carried with it supreme responsibility, as Indian attacks almost invariably came from that direction. After some fortyfive years residence in Beaver County Andrew Poe died in 1830, and is buried near the lower side of Old Mill Creek cemetery, in a grave clearly marked with a monument erected by his granddaughter. Adam Poe moved to near Masillon, Ohio about 1820 and died there in 1840.
Another interesting grave is that of Thomas Moore, first settler in Hanover Township, and also a Revolutionary veteran. He was born on a farm near Leesburg, Virginia in 1750. At twenty-four years of age he was married to Rachel Phillis, a neighbor girl, and some two years later - in 1776 - settled on a tract of 500 acres lying along the present Route 30, three miles south-east of Hookstown, a portion of this land is now known as the "Pioneer Fruit Farm", and owned by ON. Boone. In the year 1777 he attained his Revolutionary veteran status by helping defend Fort Pitt; there he served a three months tour of duty under the command of Brig.-Gen. Edward Hand. Fort Pitt was then menaced by over two hundred and eighty Indians sent out by the British forces at Detroit. Meanwhile Moore's family took refuge in a block-house, probably Dillow's Fort. Thomas and Rachel Moore were the parents of five sons and three daughters, and in order to secure proper schooling for their children engaged a pioneer schoolmaster - one William Glendy - and gave him fifty acres of land as a recompense for his services. Thomas Moore died on June 2, 1821, at the age of seventy, a nd was buried at Mill Creek, by the side of his father-in-law, Joseph Phillis. This Joseph Phillis had the unique distinction of having lived in three different centuries. He was born in England in the year 1694, and as a young man served in the British navy on board a man-of-war. Sometime after leaving the English service he came to America, and settled near Leesburg, Virginia. He remained there until 1774 when he came to western Pennsylvania and located on land near Burgettstown. After the death of his wife in 1790 he came and made his home with his son-in-law. Even when well over one hundred years of age he retained his vigor of mind and body to a remarkable degree. Only after a severe illness did senility set in, and failing eyesight hamper his movements. He died in November, 1801, at the unusual age of 107, one of the oldest persons ever to live in Beaver County. The location of both his and Thomas Moore's graves has long since been lost.
Second only to the Poe Brothers in fame as Beaver County bordermen were William Langfitt and James Whitehill, both buried at Mill Creek. Of these William Langfitt was born on the eastern shore of Maryland in 1737, came west as a youth, and is declared to have tomahawked the road from Washington to Georgetown. He settled in Hanover Township, Beaver County, sometime before 1779, his lands lying east of Kendall. He married Margaret Campbell, daughter of James Campbell, who lived on land purchased in 1773 and which later became the site of Holliday's Cove, W. Va. When the last Indian murder in Beaver County occurred on May 10, 1791 both William Langfitt and James Whitehill helped trail the Indians to the mouth of King's Creek, and then returned home and assisted in burial of the victims. On another occasion William Langfitt and Isaac Wiseman had gone on horseback to Standish Mill to have some corn ground. While homeward bound the two were attacked by Indians; Wiseman was instantly killed and Langfitt shot several times through the body. He managed to retain his seat, but in an unconscious condition was carried by his horse back over the trail to Levi Dungan's at Frankfort Springs, the first permanent white settler in Beaver County, who came in 1772. Mrs. Dungan, applying her medical skill learned while residing at the home of a relative - Dr. Benjamin Rush of Philadelphia, one of the signers of the Declaration of Independence - quickly packed Langfitt's wounds with strips torn from a silk handkerchief, and with compress and bandages staunched the flow of blood. William Langfitt lived to be ninety-four years of age, dying June 26, 1831. One of his descendants today is George Langfitt, an Attorney of Allegheny County. James Whitehall, the other borderman mentioned, came into this area at an early day, probably at about the same time as Langfitt, and cleared a farm a few miles west of Kandall. His daring was quiet as well known as Langfitt's; and was generally associated with him when Indian troubles were involved. A number of his descendants survive, among others, Dr. J.L. Whitehill, a Rochester Surgeon.