Click Here to Return to Milestones
Grove Cemetery: Its Beginnings and Inhabitants
Part Two of Two Parts
By Mark Barnes
Milestones Vol 32 No. 3
Editor's Note--Part One appeared in Milestones, Spring 2007.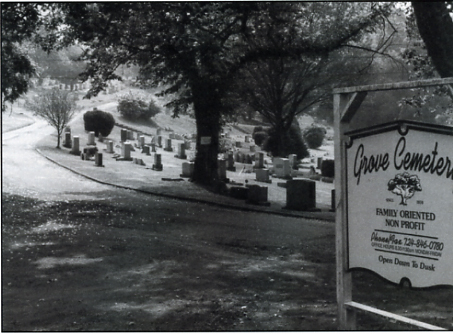 The entrance to Grove Cemetery, New Brighton.
Veterans Buried at Grove Cemetery
Most of us today know of someone who fought or died in the wars of our own generations, but we seldom think back to the men who fought for the American Revolution, the War of 1812, the Mexican War, the Civil War, the Spanish American War, and World Wars I and II. Veterans of all of these wars sleep in Beaver County.

Grove Cemetery also encompasses all of these wars. James Moore and Nathaniel Coburn were both soldiers of the Revolution. When James Moore died, he was buried on his farm in Rochester Twp., and in the year 1900, he was re-interred into Section B of Grove Cemetery. After the war, Nathaniel Coburn took the job as the very first toll-taker for the newly erected bridge that crossed the Beaver River between Beaver Falls and New Brighton. His salary was $100 per year. After his passing, he was buried in Section A.

There are at least three known soldiers in Grove Cemetery who fought in the War of 1812; Michael S. Johns, Richard Knight and William Taylor; and three soldiers from the Mexican War; Percifer Divinney, GeorgeBoettner and Robert Thompson. Grove Cemetery has more burials of Civil War soldiers, than any other war. There are no less than 400 known Civil War soldiers buried at Grove Cemetery, and on Memorial Day, each one of them gets a new flag. Those with weathered headstones or missing G.A.R. markers may get passed over, but they, along with all veterans, are remembered fortheir services.

Of particular interest pertaining to Civil War soldiers... so far, there are 15 known Black Civil War soldiers who are buried in Beaver County; 9 of them are buried in Grove Cemetery.
They are:
James Howard Bruien: Sgt., Co. H, 45th USCT. GAR# 1247
Harrison "Lem" Dawson: Cpl. Co. K, 3rd USCT. GAR# 524
James Jackson: Pvt. Co. K, 3rd USCT. GAR# 485
Edw. F. Phillips: Pvt. Co. K, 3rd USCT. GAR# 416
Edwin E. Price: Pvt. Co. K, 6th USCT. GAR# 461
James J. Rose: Co. F, 22nd USCT. GAR# 1257
Isaac Thompson: Co. H, 45th USCT. GAR# 475
Robert C. Webb: Pvt. Co. K, 3rd USCT. GAR# 674
William H. Brown: 54th MASS. GAR# 510
James Bruien and Harrison "Lem" Dawson have been positively documented as slaves who escaped from the stronghold of the south, enlisted in the Civil War, and later made their homes in New Brighton.

As of the 2002 Beaver County Veteran's Affairs listing, the following number of soldiers are buried in Grove Cemetery; Indian War: 1, Spanish American War: 49, World War I: 228, World War II: 193, The Korean Conflict: 31 and Viet Nam: 7.
Fireman's Memorial at Grove Cemetery
This section of text is taken from an article written by Mr. Mel Roush, of Rochester, who did research on the New Brighton Fireman's Memorial.
"In October, 1950, the corporators of Grove Cemetery gave permission to the New Brighton Fire Department to use the triangular piece of ground between sections H, C and B (today's Garden of Hope, Garden of Charity and Garden of Blessings) for a memorial to departed New Brighton firemen. In mid-May, 1952, a letter of appreciation from the New Brighton Firemen's Association for the piece of ground given them was received by the Grove Cemetery corporators. The memorial was dedicated on Sunday, May 25, 1952.

"Of particular interest is the bell, which began service at the Beaver County Courthouse of 1810. It was sold at public auction in 1877 to the New Brighton Fire Department. The bell hung in the belfry of the New Brighton borough building until 1946, when its weight could no longer be safely borne by the deteriorating structure in which it was suspended.

"Once the memorial was erected, in passing, a fireman would strike the bell twice, once for the dead and once for the living."
Who's Who at GroveCemetery
The records at Grove Cemetery read like a veritable who's who listing of New Brighton and the surrounding vicinities. They include war veterans, entertainers, entrepreneurs, politicians, firemen, writers, correspondents, slaves, and many other walks of life. Those with an interest in history have read many times over, the stories of local personalities who have been recollected through our centennial histories and local remembrances... Those such as Samuel Adams, Henry Noss, the Elverson's, Sherwood's and Barker's, the Townsend's... and everybody in New Brighton should know the name Merrick (all of those mentioned are interred at Grove)... but it takes more than founders and community leaders to erect a town... it takes citizens... citizens whose names never make the history books. It's the lives and the stories of these folks that actually create a town. This small list of individuals, who are buried in Grove Cemetery, doesn't even begin to scratch the surface of the hundreds of interesting lives and stories they have to share...

* Thelma Martin. Thelma was born in 1897, in Beaver Falls, attended Geneva College and worked at the Carnegie Library for four and ahalf years. She attended the Western Reserve College in Cleveland, and about 1924, she attended the University of Washington (in Washington state) where she received her degree. She then became a Librarian in that state. It was there, that she became interested in mountain climbing, and joined a mountaineer club. It was 1929 when Thelma, two mountaineer partners, and a Japanese artist, K. Furya, decided to climb Mt. Shuksan, a 9,127-foot mountain that towers over the Mount Baker area. They were caught in a blizzard on the mountain, when Furya slipped into a crevasse, dangling on the rope, which attached him to Thelma's waist. He was pulled back to the slope, but was unable to continue. The three pushed on seeking shelter, but Thelma, determined to save the Japanese artist, went back. Near exhaustion, and pelted by driving wind and sleet, she became weaker and could not continue. Thelma died on the mountain the following dawn from exhaustion and exposure. The artist also had passed, where he lay at the snow filled crevasse. Thelma Martin was returned home for interment in Grove Cemetery.

* Rube Dessau. Rube, a.k.a.: Frank Rolland Dessau, was born March 29, 1883, in New Galilee, PA. He was a Second Lieutenant in the Quarter Master Corp during World War I. Previous to the war; at age 24, he had played his first game of big-league baseball on September 22, 1907, after signing with the Boston Doves. He also played with the Boston Bravesthat same year, and in 1910, Rube signed with the Brooklyn Dodgers. On September 27, 1907, Pittsburgh Pirates star Honus Wagner's season came to end when a pitch from Boston's Rube Dessau struck him. The pitch fractured a small bone in his left hand, and knocked Wagner out of the Pirate's final 12 games. Rube died on May 6, 1952, from carcinoma of the liver, while at the hospital in York, PA. Rube Dessau is buried in Grove Cemetery.

* Susan Joan Hoefling. Susan was one of ten who survived one of the worst catastrophes in the history of Cleveland. On May 15, 1929, Susan was working as a student nurse at the Cleveland Clinic when an explosion and fire occurred. She was the only one of 55 patients admitted to the Mt. Sinai hospital to be discharged alive. For more than 10 years, she was an invalid as a result of the burns, gas poisoning and shock that she received during the fire. It seems that Susan's best therapy was when she turned to the composing of verse. She loved poetry, and had more than 250 published poems. She was a member of various composers' organizations, and was the founder of the Beaver County chapter of the Pennsylvania Poetry Society. Susan was named poet laureate of Beaver County in 1949, and held two international awards. In 1961, she was included in the Who's Who of American Women.

* James K. Piersol. James was born in Beaver County in 1843. He later enlisted in the Civil War, and became a Sergeant in Co. F, 13th Ohio Cavalry. On April 5, 1865, he participated in the battle of Paines Crossroads, VA, and was involved in the capture of an Alabama regimental flag. On May 3, 1865, for his courageous efforts, he was awarded the Congressional Medal of Honor.

* Sallie A. Donnell. Sallie was born in 1837, and at age 25, was a munitions worker who made black powder cartridges during the Civil War at the Allegheny Arsenal in Lawrenceville. On Tuesday, September 17, 1862, Sallie was killed in an explosion at the arsenal. This explosion killed 78 of the workers, and was the worst disaster of all the arsenals during the Civil War. Because of her status as a government worker, she is considered a veteran of the Civil War, and was given a government headstone and a porcelain GAR marker, which lists her as GAR #639. Sallie has a permanent county card record at the Veteran's Affairs office, at the Beaver County courthouse. (September 17, 1862, also happens to be the date of the bloodiest battle of the Civil War... Antietam. This battle had more casualties than any other battle during the Civil War, numbering approximately 23,000).

* Reed McDanel / Charles Farrow / Merle Saviers / Mervin Duey/ Robert Farrow. These five boys met their deaths as their bobsled crashed into an accommodation train in New Brighton. "Sunday, February 12, will be remembered as one of the saddest days in the history of New Brighton. The shock of the accident, which stunned so many families, was followed by the impressive funeral services, which pulled at the heartstrings of hundreds of our people. Hundreds mourn for the dead and sympathize with the afflicted." (New Brighton Daily News... 2/13/1905)

* Benjamin Rush Bradford. Benjamin's Great-Great grandfather, William, came to America with William Penn in 1682. William was a printer and also started the first paper mill in Pennsylvania. William's son, Andrew, was a friend and patron of Benjamin Franklin. Benjamin came to New Brighton in 1839, and later received nominations as Governor and Lieutenant Governor. He was a staunch Presbyterian who attended the Jefferson College, and was involved in many Christian organizations such as the Western Theological Seminary and the Union Benevolent Society of Philadelphia. Benjamin was a scholar, a teacher and a superintendent for the Sabbath Schools for over 50 years.

* Charles Medley. Charles was the first full-time paid fireman in Beaver Falls and Beaver County. He joined the fire department in 1897, and having served continuously, had the longest active service record in Beaver County. Charles was chief of the department from 1899 to 1914.

* Fern Medley. Fern was not only the librarian in Beaver Falls for 45 years, but also a civic booster and inspiring citizen of the community. Her three great loves were: her work at the library, her community and the thousands of children that she came in contact with every year. Her obituary stated that there "are no immediate survivors"; however there were... the thousands that she leaves behind in the Beaver Falls area... for they were her family. Today, a large painted portrait of Fern hangs in the reading room of the Beaver Falls library.

* Hezekiah Hulme. Hezekiah died while digging a grave. He was born in Lancashire, England, in 1844, came to the United States in 1868, and lived in Lewistown, Maine, where he pursued the hatters trade. He then went to Denver as a prospector, but eventually wound up in Beaver County, PA. Hezekiah first settled in Beaver Falls, and worked at the cutlery works, and then in 1879, became the well-known sexton for Grove Cemetery. He held that title for 25 years. Hezekiah lived in the small cottage that is currently the office and chapel for Grove Cemetery. On February 5, 1902, a large stone had been found in a grave that was being dug. Hezekiah climbed into the grave to help with its removal, and while in the grave, he threw up his hands and exclaimed, "I am done!" An assistant ran to theA.F. Smith & Co. brickworks to get help, but while carrying him to his home, Hezekiah expired. It was determined that his weak heart was the cause of death.

* Bill Maybray. Bill was a drummer, bassist and co-lead vocalist for the Jaggerz, a local band that had success in the late 1960's/ early 1970's. Bill played drums and sang back-up harmonies on their 1970's hit "The Rapper", and was with the Jaggerz when they appeared on Dick Clark's American Bandstand. Bill also played with the reunited Jaggerz during the 1990's. He died in 2004. Very near his gravesite, there is a likeness of Bill's face carved into a tree, along with his birth and death dates, and the name of his famous band... the Jaggerz.
Thus... with all the rich history that Grove Cemetery has witnessed, to say that it has "survived" is a bit of an understatement. Throughout the years, Grove Cemetery has certainly been "alive" with many differentlevels of activity owing to the remembrance of our dearly departed.

Today, Grove Cemetery stands as a testament to the nearly 16,000 people who have chosen this burial ground as their final destination, and to those involved in maintaining the natural splendor of this memorial park. Grove Cemetery is proud of its long history, and its impressive catalog of stories that represent the lives of the past. Grove Cemetery is also proud to preserve its harmony with nature as a member of the National Audubon Cooperative Sanctuary System.

The Grove team takes pride in assisting neighbors and visitors... old and new... in preserving their family heritage, as our nearly 150 years of interment records make our Family Registry an important resource tool forgenealogists and ancestral documentation.
Come take a stroll through Grove Cemetery and enjoy the peacefulness and the beauty. Stay a while and you will discover: A walk through Grove Cemetery is a walk through history.
Some Scenes from Grove Cemetery