Veteran's Bridge: Newest Bridge in Beaver County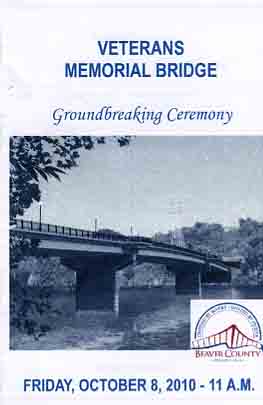 OLD SHARON BRIDGE
Built by the Sharon Bridge Company in 1888 and constructed by A. J. Jolly & A. M. Jolly as a toll bridge on the site of a ferry operated by George W. Parker connecting Junction Park to North Bridgewater. The Beaver Valley Traction Company laid its tracks across the bridge in 1891 for the service from Beaver Falls to Beaver and then purchased the stock of the Sharon Bridge Company in 1903. That company also absorbed the Peoples Electric Street Railway of Rochester in 1901. (H. M. Camp) Condemned by the county, it was sold for scrap and removed in 1944.
Constructed at this site will be the new Veterans Bridge in 2010. It will be the first new river crossing in Beaver County in 40 years. ITt is also the only bridge being built in Pennsylvania at this time.
NEW BRIDGE ALSO REPLACING FALLSTON BRIDGE
Was built by the Fallston Bridge Company as a toll bridge in 1836 and swept away in the flood of February 7, 1884. Then it lodged against the wooden Big Beaver Bridge carrying both into the Cleveland & Pittsburgh Railroad Bridge then the three into the Pittsburgh & Lake Erie Bridge partially demolishing that structure. It was rebuilt in 1884 as it presently exists; its length is 400 feet. Condemned and purchased by the County June 20, 1905, (see court record 44 December 1905) the company sought a damage award which was resolved June 16, 1906. A bond issued @ 4.5% interest by the county to undertake repairs was made December 8, 1909. This bridge has been under repair by the county for over 100 years. The new Veterans Bridge is scheduled to be let this June (2010) with construction to begin this season.