Click Here to Return to Milestones
Arthur Bradford House to be Sold at Auction
Milestones Vol 29. No. 4
by Roger Applegate
Editor's Note: This Beaver County Landmark is to be sold at auction in the very near future. This article is being presented in the hopes that a buyer will step forward to purchase this historically significant home and restore it to its former glory.
Located near Darlington, Buttonwood, was once the beautiful and stately home of the noted Beaver County abolitionist, Presbyterian minister, and United States Consul to Amoy, China, Arthur Bullus Bradford.

An ardent opponent of slavery, Bradford traveled extensively throughout western Pennsylvania and eastern Ohio lecturing on the evils of slavery. As he rose to national prominence in the anti-slavery cause, his lectures took him as far away as Boston and New York.

In addition to his oratory, Bradford was a prolific writer and helped to spread his message through articles in New Castle, Pittsburgh, Boston and New York newspapers, as well as through many anti-slavery pamphlets circulated throughout the nation.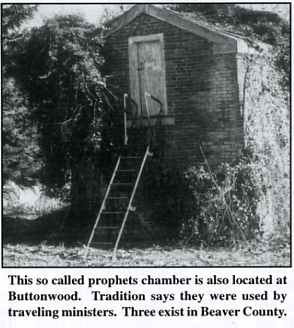 Bradford believed so strongly in the anti-slavery cause that he put his words and ideas into action. Following 16 years as the pastor of the Mt. Pleasant Presbyterian Church in Darlington, Bradford became so upset by the lack of activism on behalf of slavery by his own church, that he broke away and formed his own Free Presbyterian Church in 1847.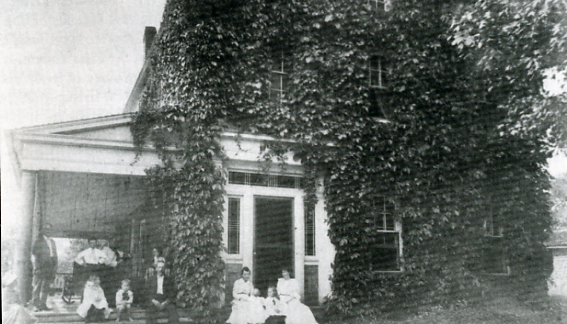 A picture of Arthur Bradford's Buttonwood taken in September, 1899.


In addition, Bradford willingly endangered himself, his family and his home when he made Buttonwood into a stop on the Underground Railroad, with himself as a conductor. According to Dr. Bausman's History of Beaver County:

"The Fugitive Slave Law provided a penalty of $1000 upon any one convicted of assisting slaves to escape, so in order to protect his wife and children Mr. Bradford temporarily transferred his property to a friend. But, although oftentimes his neighbors were bitterly opposed to his course and even threatened him with tar and feathers, he never suffered personal violence."

Besides the countless number of fugitive slaves who passed through Buttonwood on their way to freedom, many national figures in the abolitionist movement also frequently visited there to help pioneer the end of slavery in America forever. Buttonwood still stands as the only surviving witness to the important events which unfolded there.

Today, Buttonwood serves as a reminder of the courage of not only Arthur B. Bradford, but of the many other Beaver County citizens who risked everything to stand firm against the evils of slavery.
A picture of Buttonwood taken in November, 2004.


Unfortunately, as memories often do, the significance of Buttonwood has faded and has all but been forgotten. Shortly, this historic property will be put on the auction block to be sold to the highest bidder, and we can only hope that the new owner will be mindful of her historical significance and restore the house to its former grandeur.