Click Here to Return to Milestones
Rochester's Flatiron Buildings
Milestones Vol 24 No. 4
In honor of the recent Rochester Sesquicentennial, we offer this picture essay of the heyday and tragic fate of once well-known landmarks at the lower end of town - the Marquart/Dukas buildings. And perhaps in some way we see in these photos a metaphorical microcosm of Beaver County as a whole - a birth, a transformation, a golden era, a death, a memorial.
Johann Goethe once wrote, "Three things are to be looked to in a building: that it stand on the right spot; that it be securely founded; that it be successfully executed."
It appears the Marquart/Dukas buildings met all three of these criteria. They stood in a prominent position at the corner of Brighton Avenue and Pleasant Street where they oversaw the coming and going of myriads of people in this once busiest town in Beaver County. They were also well built and sturdy brick buildings that were interestingly constructed in the form of a wedge, thus earning the nickname, "Flatiron Buildings" since they resembled the shape of a homemaker's flatiron.
The one ingredient that Goethe left out of his recipe for successful buildings is that they survive into the future. And this the Flatirons could not live up to since neither is with us today.
Exactly when these buildings were constructed in not known. We do know that the Marquart was standing in the 1890's. It was apparently built by Fred Marquart, a prominent Real Estate businessman, who kept his offices there into the early 20th century. The Butler Building which stood, and still stands, directly across from it at 101 Brighton Avenue was built around 1882. Apparently the Marquart building met an untimely fate for it was rebuilt sometime in the early 20th century and hence was referred to as the Dukas building.
We know the names of several tenants of this building. In 1916 Max Fuchs located his dry goods store here. John Manos was the proprietor of Candy Land. A 1924 publication states that Manos, "serves his patrons with a full line of confectioneries, sodas, soft drinks, tobacco, cigars, and a very popular resort with prompt service and courteous treatment." Also, a Fred Riddle had a popular billiard parlor there. Thus these stalwart buildings were not only places for the purchase of the necessities of life - a house to live in, dry goods to wear, but were also places to perhaps frivolously drink a strawberry soda, and hustle or get hustled at the pool table. What a snapshot of life in Beaver County.
And so these buildings, first born in the 1800s, then reborn in the early 1900s grew to maturity, providing a safe haven for many businesses and offices over the years. Then in April, 1983, tragedy struck again. The Dukas was gutted by a fire that left only an ignoble hulk of what had been a corner sentinel of commercial pride.
Then the wrecking ball, the bulldozer, the trucks hauling the remains away to be buried in some long forgotten spill pile.
But yet there remains an interesting epithet to these buildings in the form of a mini-park that now occupies the corner lot. The Rotary Club of Beaver built and dedicated this park in 1998 using the design of Zack Harvey, an art student at Rochester High School. Very few buildings are afforded this luxury and honor.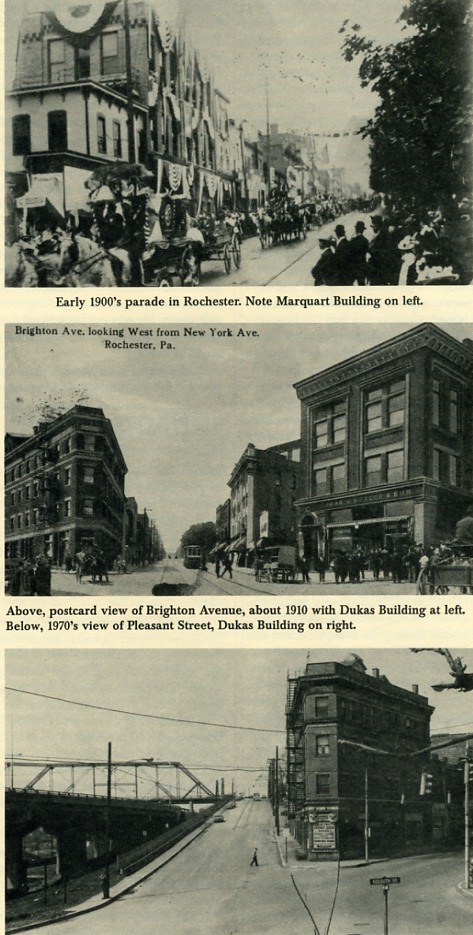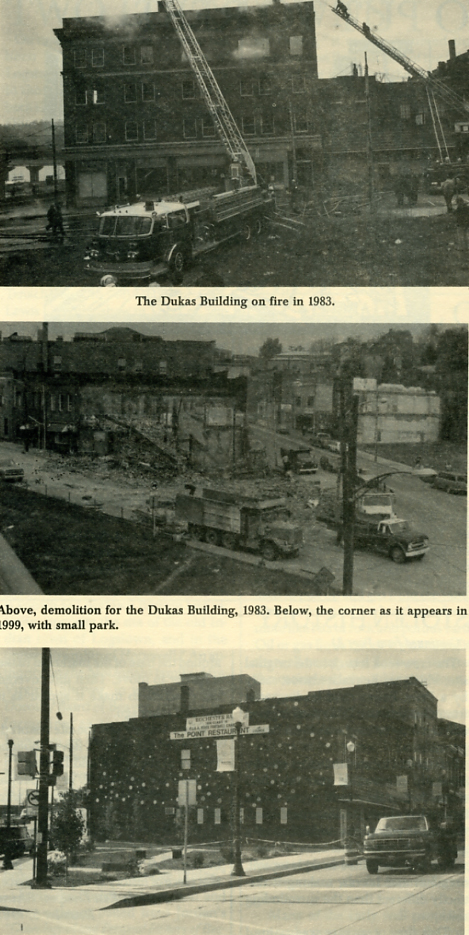 (Thanks to Bob Batto for the use of his pictures.)