Click Here to Return to Milestones
Tracks of the Past: Bridgewater
Milestones Vol 24 No. 2
By Edwin R. (Ned) Weeber
One of the last, if not the last, is a 100 foot exposed section of street car tracks which traversed virtually every town in the Beaver Valley until the mid-1930's. The last car to operate was on August 10, 1937 between old Junction Park, New Brighton and Morado at the north end of Beaver Falls. All other lines, as the one pictured, in the Beaver Valley had already been replaced by buses.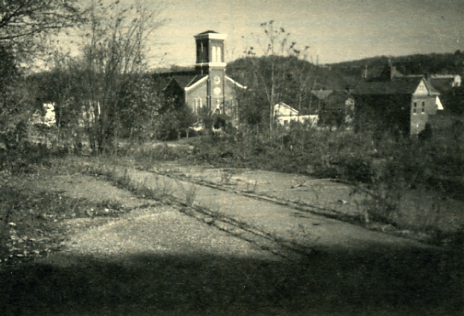 The abandoned street section shown was part of the main street connecting West Bridgewater and Rochester to the east end of the town of Beaver, just before it made a sharp turn under the Conrail Railroad tracks.
The First Presbyterian Church of West Bridgewater is shown in the center background. The four-lane Route 51 now separates the dead end Bridge Street between the church and the abandoned section. The current main access to Beaver is just to the right of the picture from West Bridgewater and Rochester.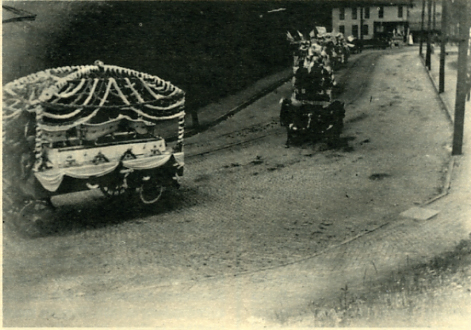 The older photograph shown was taken around 1900 by Henry Noss Fisher and was included in Beaver County Album H (#1533) by Arnold B. McMahon. This photograph is of particular interest as it shows a "parade of wagons and puffing horses coming up the hill out of Bridgewater." The straight section of track is same as shown in the current photograph. The old photograph noted the bathtub display on the first wagon.
It is noteworthy that the last vestige of the network of street car tracks in the Beaver Valley is within approximately 200 yards of the recently established Beaver Area Historical Museum.